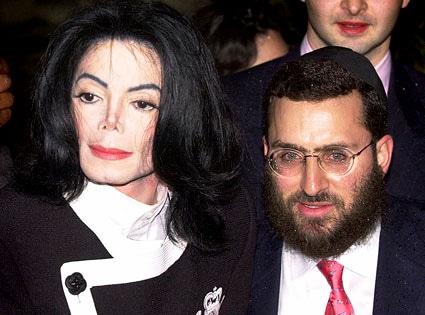 AP Photo/Martyn Hayhow
This can't be kosher.
Add Michael Jackson's former spiritual guide to the list of people looking to cash in on the pop icon's death, as TLC star and frequent Oprah couch-sitter Rabbi Shmuley Boteach today released a book based on 30 hours of intimate and revealing taped conversations with the star.
So not so much a tell-all as a share-all.
The Michael Jackson Tapes: A Tragic Icon Reveals His Soul in Intimate Conversation is based on confabs the rabbi had with his "close friend" back in 2000 and 2001.
As for why Boteach sat on the private tapes for nearly nine years before unveiling their contents, well, according to the rabbi's website, "It was Michael's wish to bare his soul and unburden himself to a public that knew he was deeply suspicious of him."
In other words, think of it as more of a public service than a major betrayal of trust.
"There has never been, and never will be, anything like them."
We'll give him this: The rabbi knows how to shill.
It's unclear whether the Jackson family approves of the book's release, though if not it's only a matter of time before they're likely to set the record straight.
While anyone even loosely familiar with the King of Pop will be hard-pressed to find any new information in the tome—the rabbi says Jackson didn't want to age, basked in the spotlight and seemed to be abusing both prescription drugs and cosmetic surgery—it doesn't exactly appear to paint the superstar in a glowing light.
The tapes themselves will be played on Dateline tonight and feature Jackson talking about his children, his resistance to aging, his penchant for mannequins, his desire to disappear, Madonna's purported jealousy of him and, ironically, drugs and death.
"If it weren't for children, I would choose death," Jackson said. "I mean it with all my heart."
The topic came up again when discussing the well-documented hardships of his life: "Anybody else would probably be dead by now, or a junkie, with what I've been through, Shmuley."
If the tapes are any indication, it appears the topic of death was something Jackson devoted a good deal of time to.
"When the body breaks down and you start to wrinkle, I think it's so bad...I don't want to grow old.
"I would like some kind of way to disappear where people don't see me anymore at some—at some point, and just do my things for children but not be visual. To disappear is very important."
As for those mannequins, their appearance came at the height of the superstar's loneliness.
"I needed someone. That's probably why I had, uh, the mannequins, I would say. Because I felt I needed people, someone, and I didn't have, I was too shy to be around real people."
When Boteach asked whether there was a lot of jealousy in Jackson's profession, he answered, "Absolutely. And M is one of them. Madonna."
Well, that would explain her need to go life-event-to-life-event with Jackson in her VMA tribute.
But Boteach isn't the only Jackson associate making headlines.
Earlier this week, Nicole Alvarez, the girlfriend of his doctor and homicide investigation target Conrad Murray, took the stand before a grand jury in Los Angeles.
According to the Los Angeles Times, the 27-year-old has not been cooperating with detectives and as such was grilled by the Los Angeles District Attorney to answer questions she was unwilling to discuss with police.
However, Alvarez's attorney, Joseph Low, denied that his client had been anything but cooperative.
"We told them we were willing to participate," he said. "She just said she'd like to have an attorney present. If that's considered unwilling or uncooperative, that's pretty unfair."
Alvarez was cohabitating with Murray in his Santa Monica apartment during the time he treated Jackson. She gave birth to Murray's child back in March and, according to Low, is still very much in contact with the doctor.
"They have a child together, so he's daddy and he's very involved in the child's life."
Meanwhile, a spokeswoman for Murray's legal team said they're confident he will be cleared of wrongdoing.
"We keep saying time is our friend," Miranda Sevcik told E! News. "If they had anything substantial, they would have arrested him already."
As for Murray's current state, Sevcik said he's "very hopeful. He's upbeat, but obviously depressed, too."
—Additional reporting by Lindsay Miller
(Originally published on Sept. 25, 2009 at 9:31 a.m. PT)
________
Tell-alls on late stars are having the best week ever. Mackenzie Phillips, not so much.