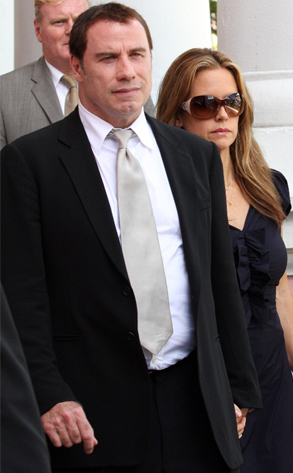 AP Photo/Kris Ingraham
In what will no doubt go down as the second most difficult day of his year, John Travolta took the stand this morning in the trial of two Bahamians allegedly involved in a $25 million extortion plot against his family.
A grim Travolta and Kelly Preston arrived at a Bahamian courthouse this morning escorted by a fleet of security.
The actor took the stand and immediately began revisiting the moments before his 16-year-old son Jett's death on Jan. 2.
Jett's nanny awakened Travolta and Preston at roughly 10:15 a.m., the actor said, informing them that Jett was unconscious in his bathroom.
"He was pounding on the door upstairs where we were sleeping. I ran downstairs with my wife to help my son," Travolta recalled, adding that when he got to him, one of the boy's caretakers was already performing chest compressions.
The actor quickly jumped into action and began administering CPR to his son, whom he also acknowledged on the stand suffered not only from Kawasaki disease, but from autism as well.