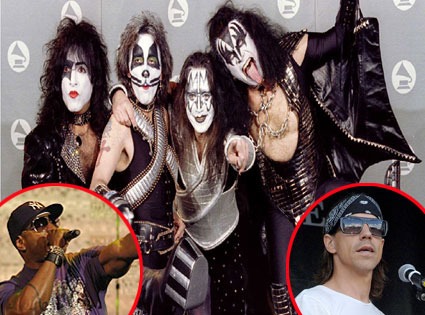 Jerzy Dabrowski/Zumapress.com, Jeffrey Staab/CBS, Courtesy Lisa Lake/ Getty Images
Mamma mia! Now this is an eclectic and iconic group if ever there was one.
The Rock and Roll Hall of Fame today revealed this year's nominees for the class of 2010, among them a rapper turned actor, a group of sock-wearing pioneers, the inspiration for last year's biggest movie, a couple of guys who can't dance (or sing) and a couple more who could single-handedly keep the makeup industry in the black (and white).
In their first year of eligibility—25 years after their first album's release—LL Cool J and the Red Hot Chili Peppers both snagged nominations to be welcomed into the Hall of Fame, joining vets ABBA, Genesis, KISS, Donna Summer, the Stooges, the Hollies, the Chantels, Jimmy Cliff, Darlene Love and Laura Nyro.
Along with the Iggy Pop-fronted Stooges, Summer, Love, ABBA and the Chantels are all repeat nominees. After years of grousing by their fans, KISS has a shot for some validation—and another excuse for Gene Simmons to sound off.
The dozen honorees will be whittled down to the final five by January, after 500 industry insiders cast their ballots. The winners will be welcomed into the legendary fold when the 25th annual induction ceremony takes places in New York March 15.
________
For the next few months, everyone's a winner. But in the meantime, check out who took the TV spoils in our Emmy Winners gallery.