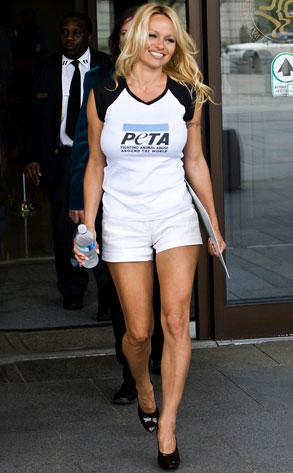 Paul Morigi/WireImage.com
She's done more for the red, white and blue bikini than possibly any other woman—it seems only right that Pamela Anderson finally be rewarded.
The Canadian-born former Baywatcher has confirmed she's officially been made a U.S. citizen, and has wasted no time in tending to her civic duty.
For her first order of business as a nonalien, the 40-year-old animal lover went to bat for her literal pet project, PETA, joining the organization's veep at Saturday's White House Correspondents' Dinner.
"Being a citizen excites me not just because I can vote, but because I can crack the whip on Capitol Hill to defend animals," Anderson said last week.
As part of her D.C. trip, the buxom blonde also hand-delivered a PETA science report to the Department of Health and Human Services, condemning the government for being so far behind European nations in failing to use modern technology and nonanimal test methods in lieu of outdated animal tests.
Patriotism never looked so good.