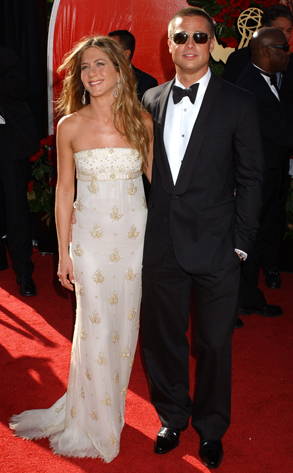 Gregg DeGuire/Getty Images
Dear Ted:
About your recent comments on Jennifer Aniston not acting her age: What would you do if your man left you for a younger and much hotter lover? Maybe she's hung up on keeping up? The other thing is that maybe Jennifer never had better taste in men. Wasn't Brad Pitt a totally irritating wannabe like John Mayer many years ago? Maybe Aniston likes 'em young and fame whoring. Lastly, can you be more specific about what exactly happened between her and Pitt? Much love and hugs for the breakup.
—O-girl
Dear Two's a Crowd:
I think Braniston fell into an unhealthy routine-like marriage—when you get bored, there's sure to be trouble lurking around the corner. Especially when she's big lipped, dark haired and has a body you'd kill for (at least back in the Mr. and Mrs. Smith days). Also, ultimately Brad and Jen had extremely different interests, never a good combo.
Dear Ted:
Screw all these pretty boys you seem so in love with. Let's discuss a real man. Robert Pattinson has nothing on Jon Hamm. Any secrets we should know about him?
—Hasulliv
Dear Hamm Sandwich:
Oh, honey, we are all fans of Jon Hamm here at the A.T. He's the Robert Pattinson of his generation, even if Jon disagrees. As for dirt on Jon, we're so working on it. Heard some interesting rumors 'bout him. We're digging.
Dear Ted:
You are probably going crazy with the need to reassure Robsten fans that Rob and Kristen Stewart are still going strong, and yet, here I am, another worried fan. The last two to three weeks we have seen R.P. on his own at parties and dinners, no K.S. in sight (other than the VMAs, which was work). I know you have said they are both independent, not needing to be with each other all the time, but please, can you just once again let us know they are together and strong and happy? Any maybe give us a clue as to one example of their togetherness lately?
—Worried & Definitely Obsessive
Dear Reading Too Much Into It:
We've hardly seen Rob out on his own a lot. He spends most of his time in seclusion with a certain costar. And they are both perfectly fine about that.
Dear Ted:
I want to know what's up with Ashley Greene and Xavier Samuels?
—callet1990