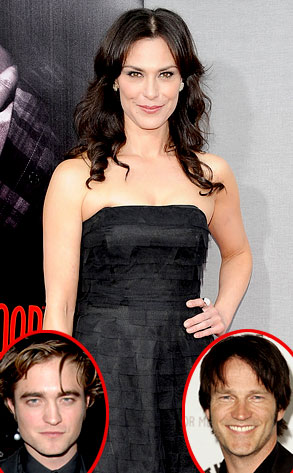 Frazer Harrison/Getty Images; Jon Kopaloff/Getty Images; Jason LaVeris/Getty Images
Let's face it—Team Jacob vs. Team Edward is so 2008. Also, it's just not that much of a competition (we love Taylor Lautner, but let's get real).
No, now it's all about Bill Compton vs. Edward Cullen.
Stephen Moyer and Robert Pattinson may get along totally fine in the real world, but in the nonliving world there can only be one vampire supreme. Hence the whole Rob Pattinson is the Diet Coke of vampires comment.
We caught up with Michelle Forbes, who plays the sexy villainess Maryann on this season of True Blood, at the BAFTA Tea Party this weekend. And it's no surprise that she's backing Moyer when it comes to the sexy showdown.
Check out her reasoning, plus tons more dish on how Robsten Sr.—Stephen and Anna Paquin—are doing, and also whether the character we love to hate will be resurrected for season three: