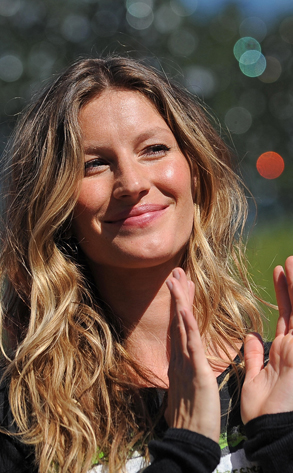 STAN HONDA/AFP/Getty Images
Diaper duty isn't all Gisele Bündchen has on her plate.
The supermodel, who's expecting her first child with hubby Tom Brady in December, was named the new Goodwill Ambassador for the United Nations Environment Program on Sunday at an event in New York's Washington Square Park.
Not unlike ex-boyfriend Leonardo DiCaprio, the Brazilian babe has been a longtime environmental activist. Her new role will help the program "raise awareness and inspire action to protect the environment," according to the organization.
"The environment has always been my passion," the leggy lady said at the announcement event. "I grew up in a small town and I had the opportunity to live surrounded by nature...We must act now so future generations have the same opportunity. Mother Earth is our fundamental life-support system and, by becoming aware and responsible now, we can assist in preserving the planet."
In addition to adding "mom" and "Goodwill Ambassador" to her growing list of gigs, the multitasking beauty is reportedly working on earning her pilot's license.