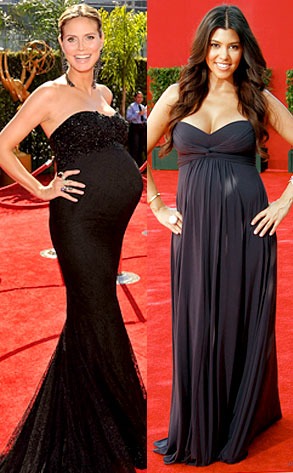 Matthew Imaging/Getty Images; Jeff Vespa/Getty Images
Nominee Heidi Klum offered her best advice for dressing for two: "I think the bigger you get, in the end it's better to go smaller," she told E! News' Ryan Seacrest on the red carpet.
Her strapless Marchesa gown was formfitted to show off her baby bump, while Kourtney Kardashian worked a plum Empire-waisted dress as she dodged questions about Khloé's upcoming marriage plans and laughed that Kim Kardashian might be more forthcoming.
Klum worked out the fashion, but said she hadn't found a baby name yet, but "maybe if we win, it will be Emmy!" she laughed.
And Kate Walsh had better keep an eye out on their styles. "There may be some bambinos in my future," she laughed after discussing Grey's Anatomy costar Ellen Pompeo's pregnancy.