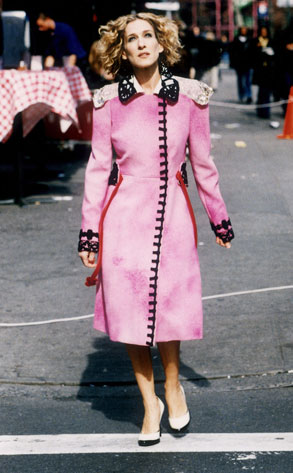 HBO / Craig Blankenhorn
Can men alone make a hit of The Incredible Hulk? Will women stay away? And, by the way, does a box-office expert ever get asked questions like that?
"That never comes up," says Exhibitor Relations' Jeff Bock.
It does, however, come up with Sex and the City.
The TV series turned movie, opening Friday, is about friends and relationships. The box-office forecast is about women and men, and who's going to show. Or not.
Conventional wisdom, if not anecdotal evidence, says men are going to stay home, and women, like writer Sarah McLaughlin, are going to go all out.
McLaughlin, a commentator for the movie site Fandango.com, has weekend plans to meet up with 11 friends, all women, at a theater in Hollywood. (Fandango and E! Online are both owned by Comcast.)
"We got tickets the day they went on sale—I think that was May 15, two weeks before the opening," says McLaughlin. "We'll have drinks beforehand, dessert after, and we're just going to make a night of it."
New York-based writer-editor Melissa Silverstein has already seen Sex in previews, but says she might overcome her aversion to opening-weekend crowds to check out the movie with a paying audience—an audience she expects to be largely female, for better, if not for worse.
"This is one of the overarching themes of Hollywood: Men won't go to a 'chick flick,' " says Silverstein, who blogs about such themes at her site, Women & Hollywood. "It makes you less of a man if you go see one of these movies. [The perception of these movies is] they're not as good as, they're not as important as."
Because Sex and the City stars Sarah Jessica Parker, Kim Cattrall, Kristin Davis and Cynthia Nixon, four women of a certain, 40-plus age, Silverstein thinks it is a movie that's quite important. She's blogged that she can't wait for opening weekend to come and go, successfully, so that the question—Can women moviegoers make a movie a hit?—can be answered. Again.
"Women are not a niche," Silverstein says. "Hollywood believes we are, but we are half the world."
And, according to the Motion Picture Association of America statistics, they are ore than half the moviegoing audience. In 2007, 87 million women attended the movies, compared to 85 million men. The numbers suggest that women must help make lots of movies hits. Just not necessarily movies with women leads.
Last year, only two female-driven movies, Juno and Enchanted, were among the year's Top 20 grossers.
This year, things are a bit different. The tween-skewing Hannah Montana concert movie and the adult-skewing Tina Fey comedy Baby Mama both scored weekend box office wins. 27 Dresses, starring Katherine Heigl, is one of 2008's Top 10 hits.
Unless current champ Indiana Jones and the Kingdom of the Crystal Skull drops far more than the usual 50 percent, Sex and the City probably won't win the weekend. But expectations, fueled by international interest, Sex-dominated magazine racks and news of sold-out screenings, are high nonetheless.
The most optimistic projections say $40 million-ish, which would position Sex to challenge the top-opening romantic-comedy of all-time, Hitch, which starred Will Smith.
The top-opening, female-led romantic comedy is Reese Witherspoon's Sweet Home Alabama, which debuted with $35.6 million in 2002, per Box Office Mojo. And Bock, for one, thinks Sex could open in the neighborhood of the "low 30s"—a gross that would still afford the $60 million movie hit status.
Or, it could open, Bock says, in the $20 million range, à la 27 Dresses. But if it falls below $20 million, look for "Sex and the Disastrous Weekend" headlines.
"This is the wild card of the summer," Bock says. "There's nothing that's been like this—a two-and-half-hour, R-rated, romantic-comedy with no male leads."
Silverstein hopes women respond to the challenge and buy tickets. And she thinks it's a shame if men pass up the movie out of hand. But she's not convinced Hollywood will learn a thing in any case.
Citing the lack of copycat movies generated by female-driven hits such as The First Wives Club, Something's Gotta Give and The Devil Wears Prada, Silverstein says, "The way Hollywood perceives this [success] is, 'Oh, that's so interesting."