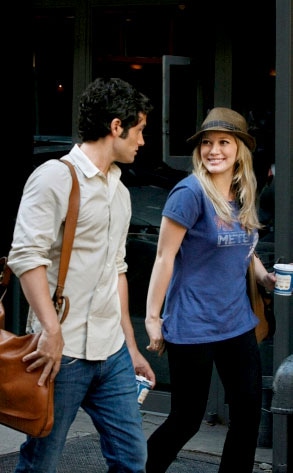 Giovanni Rufino / The CW
Episode four of Gossip Girl this season is going to be a celebrity bonanza, as you can see for yourself in four all-new scene shots just released by the CW.
In ep four, airing Oct. 5, Hilary Duff arrives on the scene to canoodle with Penn Badgley's Dan Humphrey (the ep is titled "Dan de Fleurette,") and both Tyra Banks and designer Tory Burch are on the scene as well.
Why?
Because Ms. Serena (Blake Lively) gets a gig as a celebrity publicist and while working a movie premiere finds herself in the company of such high-falutin' magazine-cover staples. (Maybe they can give her some advice on getting additional tabloid attention?)
And in one of the other new photos from "Dan de Fleurette," you'll notice that Taylor Momsen's Little J and Ed Westwick's Chuck Bass (Jenny's one-time would-be date rapist, who is now fully apologetic and humbled) are spending some quality time together.
What could possibly lead to such a unlikely conversation? Well, it's Gossip Girl, so it makes sense that a shady plot has brought them together. Yep, sources tell us exclusively that Little J and Chuck are up to no good—they need each other for a scheme—and when Blair finds out what they're up to, she blows a gasket.
Are you excited for Tyra and Hilary to appear on Gossip Girl? Or do you think they're just stealing screen time from Chuck and Blair? And what do you think of Serena's cockamamie daddy-please-call-me plan?
—Additional reporting by Breanne Heldman
________
Click on one of the thumbnails below to see the snaps for yourself!