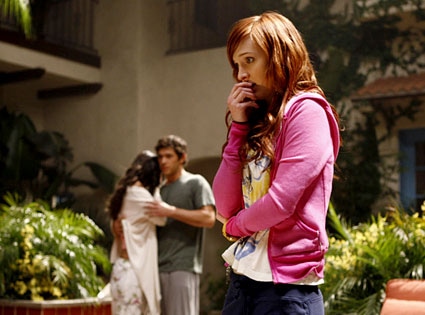 Michael Desmond /The CW
Two new prime timers took a tumble last night. Of course, one had a lot more room to fall than the other.
In just its second week, the CW's new-look Melrose Place fell below 2 million viewers, got schooled by NBC's Biggest Loser premiere on the art of being a chick magnet and blew the lead-in provided by the steady 90210, preliminary Nielsen numbers showed.   
But other than that...
In just his second night on the new job, Jay Leno saw his audience shrink by 7 million viewers, a true, but unfair factoid considering the comic's opening-night crowd was huge. With 10.7 million tuning in, Leno was still the biggest thing going at 10 p.m., even outdrawing the final hour of CBS' Big Brother finale and ABC's Patrick Swayze tribute.
Here's betting the residents of Melrose Place would give up their rent-controlled apartments to have Leno's "problems."
________
Melrose Place is tanking, but maybe the other shows in our Fall 2009 TV gallery will have better luck. What do you think?