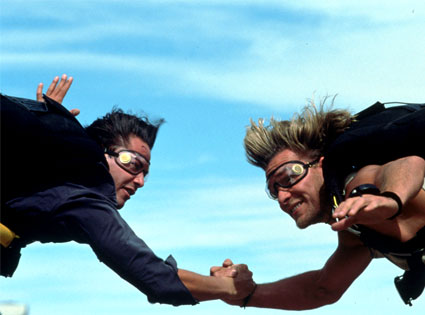 Courtesy of Fox
You never forget the costar you have to jump out of an airplane with.
"There was some skydiving sequences in this film we did together and as filming was going on, it came to be that Patrick was jumping out of airplanes all the time," recalled Keanu Reeves, who was referring to a little cult-classic caper flick by the name of Point Break, in which he played an FBI agent opposite Patrick Swayze's bank-robbing surfer.
"I think he had over 30 jumps during the course of filming and so the production served him with a cease and desist, which he listened to until they got to Hawaii."
Swayze died Monday after a nearly two-year battle with pancreatic cancer. Until he got sick, the 57-year-old star of action and/or movement-packed movies such as Roadhouse and Dirty Dancing was known for his exceptional fitness and physical grace.
While shooting Point Break, Reeves continued, Swayze not only jumped out of planes, but "he did the flips and falling to the ground and he did it with an open heart.
"He was a beautiful person, an artist. Patrick, he just wanted to experience life and for his work he wanted to take the opportunity of the film and it gave him that sense. I can say what I know, that he lived life to the fullest. My sympathies and condolences go out to his friends and family."
A fitting tribute, indeed.
________
Remember some of Patrick Swayze's best movie moments in our tribute gallery.