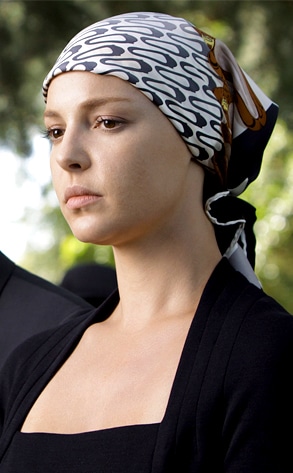 ABC/MICHAEL DESMOND
When Grey's Anatomy returns in just over a week, you'll see that things look good for all of the main G.A. couples. But after those first two hours, could things be going south for Izzie and Alex? We've got some scoop that makes us worry...
Plus, read on for much more juicy news on all your other faves including Glee, The Office, HIMYM, Dexter, Fringe, Melrose and more...
Joey in Portland, Ore.: Leverage, please.
The cast and crew of Leverage spent Thursday tweeting up a storm about their last day of filming season two and then spent Friday night tweeting throughout the wrap party. Timothy Hutton posted a few pics, too. There's even a little video that teases fans to come back in January—season three is on the way!
Lana in Charleston, S.C.: Any good music coming up on Glee?
No—just great music! The lovely Lea Michele (Rachel) tells us, "We have everything from the Rolling Stones and the Beatles to Jordin Sparks." And Chris Colfer delivers more good news: "We do some Queen, John Lennon and then we do some more Beyoncé. There's lots of Beyoncé coming up. (Watch this week for the first bit of B!) Amber Riley's Mercedes has a huge Dionne Warwick solo in the works. "It's called 'Don't Make Me Over,' and it's amazing. It'll be in the background of an episode." And even jock bad-boy Puck will show off his vocals. "I have a couple solo numbers coming up. You might hear a little 'Sweet Caroline,' maybe a Spanish song." Yay, yay and yay.
Sharon in Baltimore: I know it's still way off, but anything going on with Friday Night Lights?
Yes! The little town of Dillon is officially back Wednesday, Oct. 28 at 9 p.m. and tensions will definitely be high. Coach Taylor (Kyle Chandler) is attempting to build a team from the ground up at his new school, East Dillon, while Tami (Connie Britton) has kept her job as principal of West Dillon. Says show runner Jason Katims, "This season opener is practically a pilot in itself. It puts Coach Taylor at the center of the action in a new school, with a new team and many new challenges."
Joel from Glendale: What have you heard about Jason Schwartzman's new HBO show Bored to Death?
We've watched the first three episodes (some of us multiple times), and we love it! Set in New York City, Jason Schwartzman plays Jonathan Ames, a novelist who's struggling to write his second book. The obvious answer to his life crisis? Post an ad on craigslist.com posing as an unlicensed detective. It doesn't take long before customers call in and Jonathan begins leading a double life. Although his mystery-solving escapades are entertaining, the highlights of the show are Jonathan's two best friends: his boss George Christopher (played by the legendary Ted Danson) and his lame sidekick Ray Hueston (played by The Hangover's Zach Galifianakis). Between the two of them, the laughs don't stop...neither does the boozing or the smoking. What do you think? Will you watch the first episode on Sunday, Sept. 20?
Troy in Saratoga, N.Y.: Now that Neil Flynn is on The Middle, will we ever see him on Scrubs again?
We just caught up with everyone's favorite no-name janitor at TCA and here's what he had to say about the new season of Scrubs, "The show will be different and probably not as watchable since I'm not on it." There you go. Kidding! Neil continued: "I'll probably pop up once or twice as the Janitor."
Lyndsey in Venice, Calif.: Jillian Michaels was openly unhappy throughout season seven of The Biggest Loser, and it seemed like she wasn't coming back. Was there talk of replacing her?
No there wasn't talk, but Jillian Michaels did have to think long and hard about returning to The Biggest Loser. She explains, "I may not be getting along with these contestants, or I might not be in love with them this season, but how is the show contributing to the betterment, to the health and the happiness of human beings on a global level? And that's something that you don't walk away from lightly. But you know, it was hard. I definitely struggled with it on a lot of different levels and then I was like, all right, you know, what is the lesson that this is bringing me? How can I grow from this? And I have. But I will tell you that I definitely think I am different. I won't get all the way in, because getting all the way in you get too involved, and it's just not healthy."
Elana in Cape Coral, Fla.: So excited for Grey's returning next week. What can you tell me about Katherine Heigl/Izzie Stevens? She's my absolute fave.
Izzie grapples with her cancer throughout the beginning of the season. In the season premiere, Bailey informs Iz she's no longer a surgical patient but she is still a cancer patient, and insiders tell us that we'll see Izzie spending a lot of time with a cancer support group. Wonder if that has a negative affect on her relationship with Alex? Iz does vanish for that stretch in the middle of the season. Could the newlyweds already be taking a break?
Melanie in Hartford, Conn.: Need Office scoop! You got anything that doesn't have to do with Jim and Pam?
We'll learn in the season premiere of The Office that someone at Dunder Mifflin has been having an affair, and for once it's not village mattress Angela. (We love you Angela. Please get back with Dwight soonly!)
Cara in Virginia: Thanks for the Dexter sneak peeks! What else is coming up?
Think Daddy Dex will be able to keep his wits about him? Think again. Within the first two episodes something so big happens to Dexter it causes him to misplace the dead body of one of his victims. Yes, you heard correctly. Those chunks of people Dex is normally so meticulous about chopping up and throwing out have gone AWOL.
Duffy in San Jose: Have you seen the season-five premiere of How I Met Your Mother?
We just watched it and can tell you this: The HIMYM season premiere is filled with sex, hostages and violence. Yes, you heard us. Our favorite comedy has turned into The Mask of Zorro. Well, not really, but there are some new elements of excitement not usually seen on HIMYM. In a nutshell, Barney and Robin struggle to define their relationship, so Marshall and Lily take matters into their own hands. (FYI: This storyline includes bacon, whips and locks.) In the meantime, Ted's first day as an architect professor gets off to a less than perfect start, but according to him, his love is in the classroom. Hmmm...was it the cute blonde in the front row who asks him a question? Watch the premiere on Sept. 21 and join the speculation!
Melissa in Evansville, Ind.: So excited about more 10 Things I Hate About You ! What's to come in the back 10?
10 Things show runner Carter Covington promises lots more of druggie Keith (he's the one that got Patrick arrested and brought the alcoholic watermelon to the party) and Dawn (the girl Bianca kissed). As for the main characters, Kat will be stayin' bitchy: "We wanted to be sure we weren't neutering Kat into a 'TV!' version of Taming of the Shrew. We wanted Kat to be someone who had strong opinions, who sometimes is wrong, makes mistakes, you know, gets angry. Lindsey [Shaw] and I have talked a lot about that, just making sure that we don't soften her edges, because she's a character that doesn't want to do that."
Brady in Encino, Calif.: What else can you tell us about the Bones season premiere?
We already told you that those three little words are spoken by both Booth and Bones. (Yay! But it's not exactly what you think it is.) But we can also tell you that a castmember gets stabbed and Booth has a funny encounter with a clown. Love, stabbings and clowns! What more can you ask for? Tune in this Thursday for the season premiere of Bones.
Richard in Missoula, Mont.: I read that CSI is doing a triple crossover with Miami, New York and the flagship one in Vegas. Got any details?
We can tell you that the CSI ménage à trois is currently scheduled for the week of Nov. 9. We'll have more details and an interview with the show runner closer to that date.
FX Networks/Ben Swennerton
Meredith in Tulsa, Okla.: Sons of Anarchy is amazing this season, but I need those damn white supremacists to get what's coming to them. When can we expect to get some back?
Rest assured, SOA fans, there will be retribution for what happened to Gemma, but not right away. In the meantime, watch for cracks in the relationship between Zobelle and Weston. The awesome Henry Rollins tells us, "What my character comes to realize is that my boss, Ethan Zobelle, he has no friends. He uses everybody. In fact, those who are closed to him, perhaps get used the hardest. Adam Arkin is an amazing guy, but his character is a really bad dude. Like, scary bad. Millions of dollars behind him bad. Cops, judges and politicians in his pocket bad. He can have you killed right now, in a prison or on an airplane, you can't get away bad. Me, I'm more of an analog, linear bad guy, who works for him, thinking stupidly that we're pals."
Suzi from NYC: What do you think it's like to hang out on the 90210 set?
Michael Steger told us what keeps him busy between takes, and we're jealous! "I have a Lamborghini this season," Michael said at the show's premiere. "I don't even go to my trailer anymore. Now Dixon (Tristan Wilds) and I go out to the car, and we play with the convertible top and drive around the parking lot. Our set now is around the beach, so we have beachfront. My next wish? Well, they gave us a yacht for episode three and that was pretty impressive." Tough life, huh?
Stephanie in Atlanta: I take it from the season premiere that the man Annie killed is someone we don't already know on 90210?
Yes, it seems that Annie's victim is unknown to us, but we learn in tomorrow night's episode that incoming hottie Teddy Montgomery (Trevor Donovan) found the body after Annie ran the guy over. (BTW, does it seem plausible to anyone else that dead guy was already dead when Annie ran him over, therefore technically absolving her from responsibility?) In other news, Naomi's sister Jen is evil, and she's entangling poor Ryan in her scheme to snag a billionaire.
Jordanne in Pasadena, Calif.: So far so good on Melrose Place. I'm mostly interested in Augie, Ella and Lauren. Any scoop on them?
Suspicion for Sydney's murder fell on Augie at the end of the last ep, but he'll be pretty much off the hook by the end of this one, and another character (not one of your faves) will begin to seem like an increasingly likely suspect. (Hint: She shares a key physical attribute with the murder victim.) Lauren continues to whore herself out this week, but (a) she looks great doing it, and (b) Stephanie Jacobsen does some very nice work conveying Lauren's complex emotional cloud of moral qualms, inner strength and general desperation.
Robyn in Plainsboro, N.J.: I just watched the unaired Dollhouse episode on the DVD. It is so good. You find out so many things, one of them being that Echo is Caroline and Echo all at once! Any Dollhouse spoilers you can share about this?
The Caroline-Echo dynamic is actually a key plot point in the Dollhouse season premiere. Memo to Adele DeWitt: Generally speaking, it's better if your undercover operatives don't have multiple personalities that can be addled into appearing by the merest stress. Basically, Echo's on a mission and when things go bad, thanks to fabulous bad guy Jamie Bamber, it's not clear if Caroline is going to be Echo's biggest asset or her worst vulnerability.
H. Malik: Hello from a desperate Peter-Olivia fan on Fringe. Please, please, please give me something P/O-ish. I broke my toe!
Hope this Peter-Olivia info will make you feel better soon: There are actually some semitender Peter-Olivia moments in the premiere—cold, hard Olivia even lets her guard down at one point and asks Peter for personal help. This could just be another pointless tease, or it could be a sign that the show is finally turning a corner on this key relationship!
Anna in London: So disappointed to read Noah won't be back on Private Practice, not even to resolve that storyline. Could you please cheer up all the Addie fans with some Addison-related spoilers?
We've seen the Private Practice season premiere, and it's actually excellent. Addison isn't the spotlight character, but when she does come onscreen, she positively shines. Kate Walsh is an amazing actress. The premiere is based around a Pete-centric flashback that shows how he joined the practice and got to know all of the characters, particularly Violet. By the end of the episode, you very well might cry.
Taylor in Las Vegas: What have you heard about season three of Californication?
Californication (or should we call it Cali-porn-ication) is back on Sept. 27, and it's dirtier than ever. In the first episode, Hank Moody is struggling as a single dad and begins questioning his daughter's sexuality. In the meantime, there is no other way to describe newly separated Charlie Runkle than as a complete hot mess. Times are tough, and he is begging for his old life back, literally. Unfortunately, Marcy doesn't seem to be giving in…yet.
Matt in Scripps Ranch, Calif: Curb Your Enthusiasm is finally coming back! Thoughts?
Our main thought is fabulous, because that's exactly what the first three episodes of Curb are. If you're a Larry David fan, the premiere has one of the funniest moments we have ever seen from the Seinfeld scribe. Look for Larry's overdramatic reaction to some not-so-fabulous news in the final minutes of the first episode. Classic. In other news, a strange turn of events in the Curb Your Enthusiasm premiere find Larry and Cheryl (Cheryl Hines) reminiscing about old times—alongside Wanda Sykes—but by the end of the episode, we're guessing it will be a long road to reconciliation for the two—and not because either of them wants it this way.
Jimmy in Carson, Calif.: So happy to see Taggart back on Eureka—he's the best. Will my favorite character be on the show more regularly now?
Matt Frewer himself tells us this is the only Eureka episode he filmed this season, which means he won't appear on Friday's finale. As for future eps, the onetime Max Headroom says, "I'm sort of in a wait and see mode." Here's hoping there's a lot less waiting and a lot more seeing of the Aussie dog catcher in season four.
Tammy in Portland, Oregon: Are we going to see more of MacPherson on Warehouse 13? He's so...smarmy.
Oh yes, that fiend promises many unhappy returns. The Warehouse 13 season-finale cliffhanger reveals that Artie's nemesis (Roger Rees) is also linked to two other warehouse women—with terrible consequences for the artifacts and their protectors. Especially Artie himself. Dun dun dun dun.
—Reporting by Kirstin Benson, Carrie Borzillo-Vrenna, Jennifer Godwin, Megan Masters and Drusilla Moorhouse