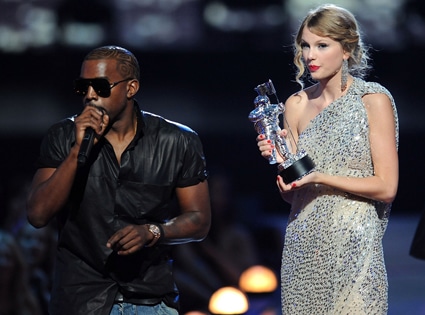 Kevin Mazur/Getty Images
Taylor Swift's fans aren't the only people outraged by Kanye West's outburst at the MTV Video Music Awards.
The celebrities are backing the starry-eyed teenage titan as well.
"I feel really bad for Taylor Swift. I think it was really disrespectful," Kristin Cavallari told E! News in the press room.
"Dear Kanye, What happened to you as a child?? Did you not get hugged enough??" Swift's fellow Best Female Artist nominee, Kelly Clarkson, blogged immediately after the event. "Something must have happened to make you this way and I think we're all just curious as to what would make a grown man go on national television and make a talented artist, let alone teenager, feel like s--t...I was actually nominated in the same category that Taylor won and I was excited for her, so why can't you be?"
They weren't the only ones...
"She's young and I think she'll get over it, and I think that he needs to get over it," fellow winner Billie Joe Armstrong of Green Day told E! News. "It was very uncomfortable sitting there behind him."
Bandmate Tré Cool added that the hip-hopper "absolutely" needed to apologize to the chanteuse.
Tay-Tay's good pal and tour mate Kellie Pickler also came to her defense.
"Tator Tot, you handled yourself with Grace," she tweeted. "Kanye, go grow some f-ing balls bitch! don't mess w/my lil sis!"
"Big love to my girl @taylorswift13. A class act," John Mayer twittered.
"Kanye West is the biggest piece of s--t on earth. Quote me," Pink tweeted. "My heart goes out to taylor swift. She is a sweet and talented girl and deserved her moment. She should know we all love her. Beyonce is a classy lady. I feel for her, too. It's not her fault at all, and her and taylor did their thing."
"I'm throwing away my Kanye glasses," Kat Dennings threatened. "They were 8 bucks, no skin off my apple."
To toss cheap glasses on the "Love Story" lady's behalf—we think that says it all.
(Originally published Sept. 13, 2009, at 10:29 p.m. PT.)