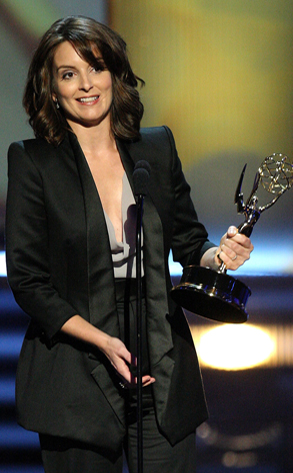 Mathew Imaging/Getty Images
The big winner at Saturday's Creative Arts Emmys?
Sarah Palin. Tina Fey. The bespectacled funnylady's spot-on Saturday Night Live spoofin' of a certain veep wannabe earned her an Emmy for Outstanding Guest Actress, Comedy.
You betcha.
"This would not be possible without Mrs. Palin...[who is] an inspiration to working mothers everywhere," Fey said as she picked up the prize. She also gave a shout-out to "my parents, who are lifelong Republicans, for their patience."
"They thought the first four sketches were very funny and the last two, enough already," said Fey, who stands to collect more hardware at next weekend's Primetime Emmys.
Meanwhile, all that booty-shaking with Beyoncé and mother-loving with Susan Sarandon paid off for Justin Timberlake...