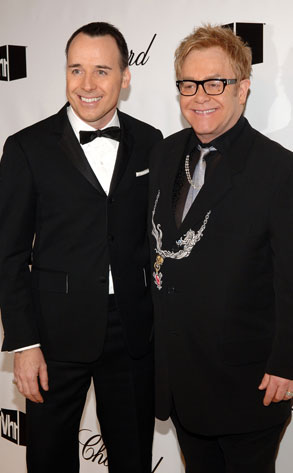 Jamie McCarthy/WireImage.com
UPDATE: Looks like baby won't make three for Elton John and David Furnish.
A Ukrainian official has put the preemptive kibosh on any plans the pop icon may have had to adopt a 14-month-old HIV-infected boy named Lev.
Family, Youth and Sports Minister Yuriy Pavlenko told reporters that Ukrainian law requires adoptive parents to be both married (same-sex unions don't count) and under the age of 45 (John has considerably more rings around his trunk at the ripe old age of 62).
So, two strikes and he's out.
________
Elton John might be expanding his brood.
The "Your Song" singer visited Ukraine with his AIDS Foundation on Saturday and found himself taken by a 14-month-old boy who lost his parents to the disease.
"David always wanted to adopt a child and I always said no because I am 62 and I think because of the traveling I do and the life I have...wouldn't be fair for the child," John said of his longtime partner, who was along for the trip.
So why now?