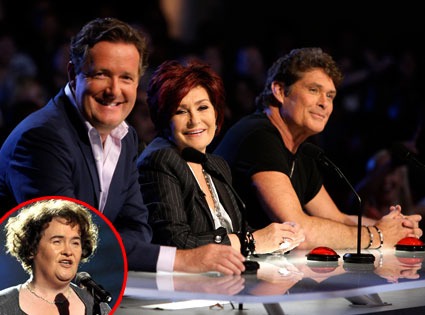 NBC Photo: Chris Haston
America's Got Talent. Britain's Got Talent. Now thanks to Simon Cowell, America's got Britain's talent.
Good old SuBo herself, Susan Boyle, is scheduled to make her U.S. performance debut next week when she takes to the stage on the season finale of the Nick Cannon-hosted reality fest. (A nice and long-rumored bookend as she also appeared, briefly via satellite, in the season premiere.)
Neither NBC nor the infamous BGT runner-up, whose months-away debut album has already bested Whitney Houston's and Jay-Z's in Amazon presales, have disclosed exactly which ditty Boyle will sing come next Wednesday, though "I Dreamed a Dream" and "Memory" are both safe bets, as she performed both during her U.K. reality-show reign.
Boyle will arrive stateside tomorrow afternoon in advance of her prime-time debut.