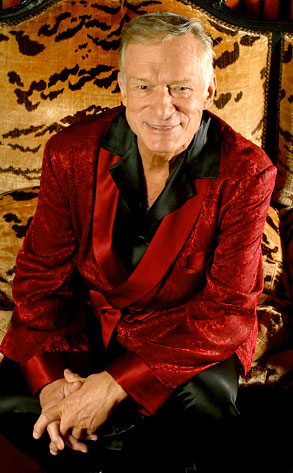 ZUMAPress.com
Hugh Hefner can't really accuse his estranged wife of cramping his style, but he's seeking more freedom just the same.
The Playboy founder and main man on The Girls Next Door has filed for divorce from Kimberley Conrad Hefner after 20 years of marriage—the last 11 of which they've spent separated.
In his petition filed Sept. 4 in Los Angeles Superior Court, Hef asks that a judge trim his monthly support payments from $40,000, the amount he's been shelling out since they split up in 1998, to $20,000.
The pajama-favoring publishing mogul has given Kimberley more than $12 million over the past decade, according to the filing. They have two teenage children together.
"There is no reason she cannot take the steps to become self-supporting immediately," Hef's lawyer states.
According to court docs, Hefner collects roughly $290,580 a month from Playboy, HMH Productions, Social Security, investments and other income channels.
But of course, all that money only leads to more problems.