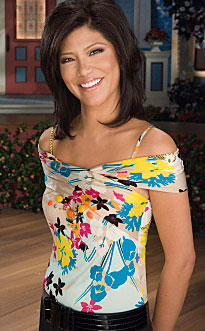 John Filo/CBS
There is just no explanation for some things.
CBS announced today that it has ordered up a 12th season of Big Brother for summer 2010.
Though we admit that the stalwart series is usually good for at least one crackpot scandal per season (this year it was housemate Chima Simone getting evicted for being an epithet-spewing brat), the low-concept show is no Survivor in terms of scenery, physical challenges or host appeal.
Speaking of which, Julie Chen (aka Mrs. Les Moonves, CEO and president of CBS) will return as host next year.
The two-hour season finale of Big Brother 11, meanwhile, airs Sept. 15.