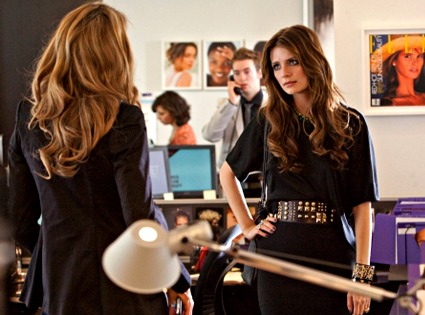 Takashi Seida /The CW
The Beautiful Life: TBL (CW)
Premiere: Wednesday, Sept. 16, 9-10 p.m.
Time-Slot Competition: Glee, Criminal Minds, Law & Order: SVU, Modern Family, Cougar Town
Cast: Mischa Barton, Sara Paxton, Elle MacPherson, Ben Hollingsworth, Corbin Bleu, Nico Tortorella, Ashley Madekwe
Status: We've seen the presentation pilot (not the full version that airs next week).
Should you watch The Beautiful Life: TBL? Read on...
Set in the glamorous world of New York's fashion elite, TBL takes you through the trials and tribulations of two fresh-faced teenage models (Sara Paxton and Ben Hollingsworth) as they try to make their way in the cutthroat world of modeling.
The typical storylines are all there: A boy fresh off the farm reluctantly gives the bright lights/big city a shot (enter Ben's Chris Andrews); a newbie model tries to escape her mysterious past (hello, Sara's It girl, Raina Mayer); and a model once at the top of her game tries desperately to reclaim her position (that'd be Mischa Barton's Kate Moss-esque character, Sonja Stone). If you can get past those inherent clichés, the flashy, pretty and sexy show is a fun ride for those obsessed with all things beau-ti-ful.
Of the former O.C. star's character, executive producer Karey Burke says: "It's dealing with a character that is living her life in the spotlight, being hounded by the paparazzi, who is at a massive turning point in her career, where it's sort of make-it or break-it time, and there are things thematically where it's exactly what's going on with Mischa's life, and she's embracing all of them."
Rounding out the cast are Elle MacPherson, who plays the head of the Covet Modeling Agency, and Corbin Bleu, Nico Tortorella and Ashley Madekwe, who are all cast as, you guessed it, models. Oh, and for the True Blood fans out there, Ed Quinn, who played a badass Dallas vamp this season, is on board as Elle's hubby. Yum!
Verdict: DVR
Fall TV Preview 2009: The Beautiful Life: TBL
Are you interested in The Beautiful Life: TBL? Share your thoughts in the comments!
_______
Find out more about the season's new shows in our CW's Sexy New TV Shows photo gallery!