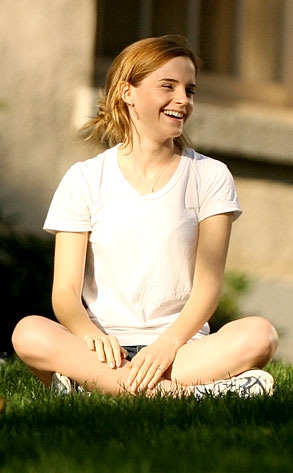 INFphoto.com
It's not every incoming freshman who can claim during an icebreaker to have spent her summer vacation starring in one of the biggest blockbusters of the year.
Then again, Emma Watson is no normal college student.
The 19-year-old Harry Potter star has matriculated in the Ivy League, turning up for her first paparazzi-plagued day of orientation at Brown University on Friday.
The most famous member of the Rhode Island school's Class of 2013 donned cutoffs and a white T-shirt (she's clearly taken to this all-American thing) for her first day on campus, where she participated in group orientation week getting-to-know-you activities, including, per the borderline stalkers at RadarOnline, a yoga class, a midnight organ concert and a games night.
Her itinerary did not, despite reports, include a helicopter arrival into town. Good thing. The Hogwarts Express is much more efficient.
________
Summer may be (almost) over, but you can still squeeze out the last drops of sunshine by checking out our Best of Summer 2009 gallery.