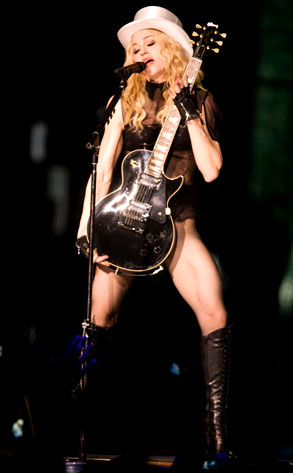 According to The Sun, Madonna passed out twice during a recent performance in Bulgaria. Once she passed out and her dancers "held her up," and the second time she passed out and fell over on stage.
First of all, if you pass out once, it might be time to call it a night. But, if you do decide to trudge on, at least go get a glass of water or a steak or whatever it is your body is in desperate need of. I do have to admit that I got a little excited when I read this story. Madonna has been shoving her no dairy, no alcohol, whole-grain-carb-only-all-organic-no-fun-diet to us for years. Meanwhile, I have been semi-quietly sucking on Grey Goose and enjoying meatball Lean Pockets no less than four times per week, and I have never passed out on stage. I once blacked out on stage, but I was told that only the first few rows could actually tell.
Suck on that, Madonna.