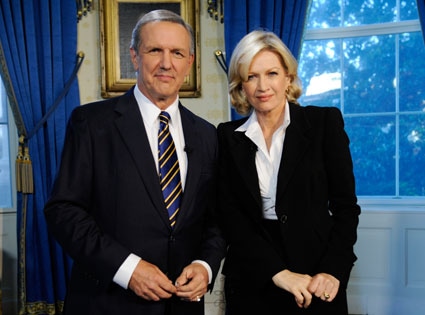 ABC/ Ida Mae Astute
Guess Charles Gibson has decided it's somebody else's turn to kick Katie Couric's butt in the ratings.
The veteran journo announced today that he will retire from ABC's World News Tonight at the end of the year, turning the anchor desk over to his old Good Morning America cohort Diane Sawyer.
Gibson, 66, took over the World News desk in May 2006, succeeding cohosts Elizabeth Vargas (who left to have a baby) and Bob Woodruff (who was severely injured in a roadside bomb attack in Iraq) after they were on the job just six months.
At the time, Gibson had been planning to leave the network but decided to stay on, eventually leading World News Tonight past rivals NBC's Nightly News With Brian Williams and CBS Evening News With Katie Couric.
"It has not been an easy decision to make," Gibson said in an email to staffers. "This has been my professional home for almost 35 years. And I love this news department, and all who work in it, to the depths of my soul."
Sawyer, 63, will begin her tenure in January.
________
While Charlie can hang up his suits for good, other celebs still like to play dress up. Check 'em out in our Guys in Ties gallery!