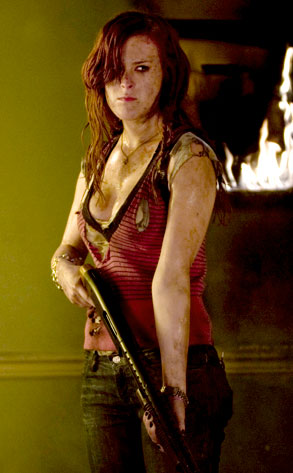 Michael Desmond/ Summit Enteratinment
Will Rumer Willis engage in some same-sex smooching on 90210? It would totally make sense considering she's making her debut on the upcoming season playing a lesbian student at West Beverly Hills high School.
"I don't know yet," Rumer, 21, tells me. "I've only done two episodes, and we're just kind of seeing how she fits in with the storyline and how she fits in with the group."
Just three days after 90210's season premiere next week, Rumer will also be seen in Sorority Row, a horror flick about a group of college co-eds being terrorized by a tire-iron-wielding psycho killer (out Sept. 11).
Rumer learned to shoot a shotgun for her part as the bookish Ellie...