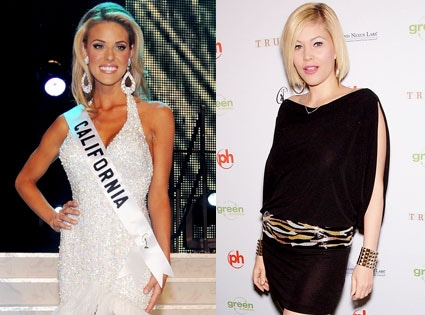 Denise Truscello/Getty Images, Bruce Gifford/Getty Images
UPDATE: Pageant publicist Roger Neal, who is also named in Prejean's suit, responded with this statement, in which he questions her motives:
"As a publicist I did my job for my client The Miss California USA organization. I am outraged that Carrie Prejean is naming me in this merit less lawsuit...That Ms. Prejean would go to this length of naming a publicist in a lawsuit is highly inappropriate and shows she and her attorney are looking for a soap box to advance their personal agenda.
"It also horrifies me that Ms. Prejean and Mr. LiMandri have seemed to have obtained illegal access to my personal and private computer online accounts. Naming me and not those who Ms. Prejean has contracts with, including Donald Trump in this lawsuit, is at best frivolous. It appears to be a classic case of a mis-guided young woman's appetite to seek money and fame...
"That Ms. Prejean would say that I '...told her to not talk about her religious faith,' is one of the many untruths in this lawsuit which will be proven. It's a sad commentary that this Christian woman chooses to attack another Christian in this way.  Every person of faith and morality should be outraged by her motives for this lawsuit. I am looking forward to my attorney filing a motion to having me completely dismissed from this merit less lawsuit."
________________________________________________________________________________
Like it or not, Carrie Prejean is going to make sure Miss California pageant officials have a religious experience. And a litigious one.
The infamously ousted beauty queen runner-up has filed suit against codirectors Keith Lewis and Shanna Moakler, among other pageant officials, for slander, libel, public disclosure of private facts, intentional and negligent infliction of emotional distress and—you knew this one was coming—religious discrimination.
Let the legal smiting begin.
In her lawsuit, filed in Los Angeles County Superior Court this morning, Prejean claims that winning the title of Miss California 2009, and being able to compete in the Miss USA pageant, was "fulfilling a personal dream."
Which, to hear her side of it, quickly became a nightmare.
She claims Moakler, Lewis and PR guru Roger Neal engaged in a "conspiracy" against her, making a series of "false and defamatory statements...in order to injure her reputation and to justify their plan to wrongfully revoke her title."
Guess she missed the day they taught forgiveness in Sunday school.
Prejean's suit claims Moakler and Lewis' public comments made her "the subject of public ridicule, scorn and humiliation" and resulted in lost earnings, modeling jobs and public appearances and even incurred medical expenses for "stress-related physical symptoms."
"Despite the fact that there were no contract violations by Prejean that justified the revocation of her title, no steps have been taken by any of the defendants to restore her good name or to undo the great harm that they have caused her," her lawsuit states.
As for that religious intolerance...
Prejean claims that in February of this year, pre-gay marriage controversy, she was informed by Lewis' assistant that he "did not want her to include any reference to God in her Miss USA application materials."
Shortly after, she claims Moakler informed her "that she simply had to stop mentioning God at all...despite [Moakler and Lewis'] knowledge of her deeply held religious beliefs as a Christian and her status as a student at a Christian college."
Things took a turn for the worse April 19, when Prejean gave her infamous response to Perez Hilton.
She claims after the pageant, in which she finished as first runner-up, she was ordered by Lewis and Moakler not to attend the afterparty, as "too many people were angry with her."
Lewis and Moakler proceeded to distance themselves from the scandal-plagued finalist and her religious beliefs and, in doing so, Prejean claims, showed they had "no tolerance" for her faith.
Tensions—and alleged intolerance—only escalated from them, according to the former sash-wearer. Among other choice snubs, she claims she was informed by Neal not to talk about her faith on a Today show interview and to backtrack on her gay marriage comments; when she did not comply with their wishes, she claims Neal told her, "We are done with you. You are on your own."
A week later, the parties, after consultation with Prejean's pastor, agreed to let Prejean rally support for her personal causes, including the National Organization for Marriage, provided she did not don her tiara, sash or use her Miss California title while shilling.
Shortly after (and dare we say, inevitably), Prejean became the topic of mockery on Countdown With Keith Olbermann, an incident she cited in the lawsuit ostensibly to prove the deterioration of her reputation at the hands of the Miss California officials.
Though it's probably safe to say she earned MSNBC's vitriol all by herself.
As for those well-publicized contract violations, Prejean says they were nothing of the sort.
While Lewis cried foul on her guest hosting of Fox & Friends, Prejean says the appearance was set up by none other than Miss Universe overlord Donald Trump himself (wisely not included in her lawsuit). The same day as her pundit gig, the since-resigned Moakler and Lewis turned up on Larry King Live to continue their campaign against her.
Prejean went on to list several other alleged wrongdoings, claiming that Lewis at one point refused to give her permission to visit servicemen and -women, resulting in her once again appealing to Trump.
As for the final straw, Lewis' public allegation that Prejean broke her contract by entering into an unapproved book deal, Prejean claims that both Lewis and Trump gave her a verbal OK on the deal.
She's seeking undisclosed, though safe to say hefty, damages and attorney's fees.
Lewis, meanwhile, blasted the legal action as a shameless PR grab.
"All I can say about it is, I guess that the confidential mediation that she requested—and that we agreed to—was not in keeping with the publicity goals of her upcoming book release," Lewis tells E! News. "We will, of course, vigorously defend any suit that she may have and file one of our own. Ultimately, feelings aren't facts."
"I'm a lifelong Christian," he added. "I take great offense at her martyrdom."
"For us, it has never been about her beliefs and we have always just wanted to move on," Lewis had said in an earlier statement. "But it seems like Carrie really has nothing new to talk about or anything new in her life so the impression is she just keeps looking for ways to rehash her position as a victim because of her onstage answer."
Moakler's attorney, Mel Avanzado, tells E!: "On Ms. Moakler's behalf, I can say unequivocally that Ms. Prejean's lawsuit is without merit.
"More importantly, as everyone who watched or read her public statements is well aware, Ms. Prejean's unfortunate and bigoted statements are responsible for any public humiliation or damages to her reputation that she has claimed to have suffered. Ms. Moakler strenuously denies that she did anything wrong and looks forward to proving that in a court of law."
(Originally published Aug. 31, 2009, at 2:07 p.m. PT)
—Additional reporting by Lindsay Miller and Claudia Rosenbaum
________
Carrie Prejean may be the latest, but she's certainly not the first tiara-wearer to spark a media firestorm. Check out who else fanned the controversial flames in our Beauty Pageant Scandals gallery.