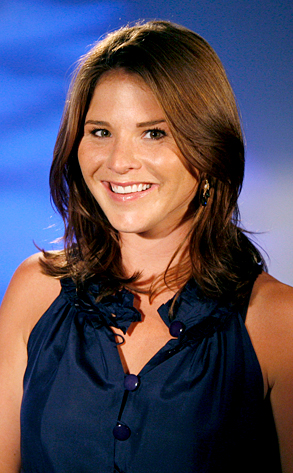 AP Photo/Jeff Christensen
Good Morning America may have Melissa Rycroft, but the Today show is about to get downright presidential.
Former first daughter Jenna Bush Hager, one-half of George W. Bush's twin set, is joining the NBC morning show's roster of special contributing correspondents, the network announced this morning.
The 27-year-old reformed party girl and two-time New York Times best-selling author will cover feature and human-interest stories starting Sept. 14. She'll be based appropriately in Washington, D.C.
"In previous appearances, [Jenna] displayed a natural ability to communicate and connect," executive producer Jim Bell said in a statement. "She has great passion about important subjects, especially education and literacy, and we look forward to having her bring her unique perspective to Today."
When she's not on TV, Jenna will remain a reading resource teacher at a public school in Baltimore. Thankfully, she's keeping her infamous dance moves to herself.