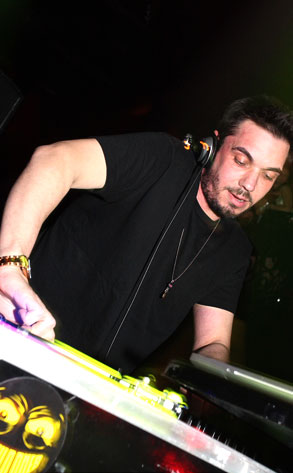 Courtesy LAX
Many of you know Ted's passion, besides celebrity gossip, is animals; mine is music. I've always been particularly fond of DJs and the nightclub scene, and DJ AM, without a doubt, was one of the most skilled performers I've been fortunate enough to see live.
I witnessed Adam Goldstein's work up close and personal while interviewing him last November; I was impressed he could carry on a conversation with me while still meticulously focused on his turntables, which he treated as an extension of his hands.
Even more fascinating was his positive attitude less than two months after miraculously surviving a plane crash. Most people could not bounce back so quickly after such a traumatic experience, but Adam was familiar with facing personal struggles all his life—with drug addiction, with food (for which he eventually underwent gastric bypass surgery) and with the constant harangue of the press—particularly when he was romantically involved with some of Hollywood's biggest starlets. He handled all his problems with humility and bravery, something extremely difficult for anyone to do, especially someone in the public eye.
I was a huge fan of DJ AM's for years, frequenting nightclubs just to hear him spin. He knew how to read a crowd and get everybody on the dance floor, which is much easier said than done. Adam often took other people's songs as the groundwork for his beats, but he always unmistakably made them his own.
My colleague Taryn Ryder and I both saw Adam and his friend (and fellow plane crash survivor) Travis Barker perform together at this year's Coachella as TRV$DJAM, and they managed to upstage every single headliner at the music festival. As a music lover, it was one of the most thrilling performances of my life, a visceral experience that is difficult to fully describe in words. I vowed the next time they played in Los Angeles I would be at the front of the line to see them again. I'm heartbroken there won't be a next time.
Besides being incredibly talented and at the top of his game, he was one of the nicest, most down-to-earth people I've ever met. Regardless of the circumstances of his death, we lost a gifted musician and a decent human being, one who will truly be missed.