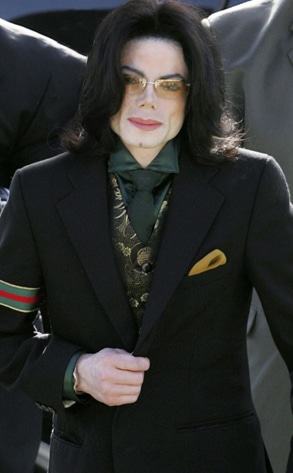 Pool photographer/Getty Images
The results of Michael Jackson's autopsy report are in and finally confirm what we've suspected for weeks now.
The Los Angeles County Coroner's Office has officially ruled the King of Pop's June 25 death a homicide brought on by a lethal cocktail of drugs, specifically "acute propofol intoxication" along with benzodiazepine effect as a contributing factor.
Per the report, after an examination of the body and thorough toxicology tests, the L.A. medical examiner found that the primary drugs that killed Jackson were the highly publicized sedative along with lorazepam, which is a benzodiazepine, a class of drugs similar to tranquilizers.
Other medications detected included midazolam, diazepam, lidocaine and ephedrine.
The Jackson clan thanked authorities for conducting a thorough investigation.
"The Jackson family again wishes to commend the actions of the Coroner, the LAPD and other law enforcement agencies, and looks forward to the day that justice can be served," read a statement from the family.
Because propofol is traditionally used intravenously in hospitals and is considered unsafe outside operating rooms since it requires monitoring by an anesthesiologist, police are eyeing manslaughter charges against the singer's personal physician, Dr. Conrad Murray, for administering the drug to Jackson.
Shortly after the coroner announced its ruling, Miranda Sevcik, a spokeswoman for Dr. Murray's lawyer, Ed Chernoff, changed her voicemail to state: "We are aware the report has been released and as soon as we have decided what we will be doing with this information we will be posting a statement on the pressroom website."
According to a media report, Chernoff has since come out and questioned why the coroner's office announced its findings in a brief summary but declined to issue the full autopsy report. He also called the decision not to release all the details "gamesmanship," arguing that he needs to know the exact quantity of drugs in Jackson's system and insisting that his client told the truth.
Dr. Jayson Hymes, Medical Director of Conservative Care Specialists Medical Group, said the coroner's cause of death report revealed Jackson died of a combination of substances, propofol being the last one that inevitably did him in.
"The way the coroner usually words these things, the last thing that killed him was the propofol," Hymes tells E! News. "Was that what did it on its own? No. It means it was a combination of medication. It was a game of musical chairs."
A search warrant affidavit unsealed earlier this week in Houston, where the doctor's offices are located, bears that out. It cited a toxicology analysis that Jackson had "lethal levels" of propofol in his system.
The document also indicated that Murray told detectives he treated the popster for chronic insomnia by giving him 50 milligrams of propofol through an IV every night for six weeks, though he tried to reduce that amount, believing Jackson had an addiction.
The morning the Moonwalker died, the doctor acknowledged that he had already given Jackson a cocktail of milder sedatives. When those failed to knock him out, Murray opted at 10:40 a.m. to give him 25 milligrams of propofol, which induced sleep right away.
Per the affidavit, the cardiologist said he left Jackson in his bedroom alone and under the influence for two minutes while he tended to other business.
But authorities have noted big holes in Murray's story, pointing to three separate cell phone calls the doc made afterward from 11:18 a.m. to 12:05 p.m. that lasted 47 minutes, information Murray didn't tell investigators.
That key discrepancy means Murray may have been out of the room much longer than he admitted and could prompt the filing of criminal charges against him.
Meanwhile, California Attorney General Jerry Brown, whose office has already lent resources to the ongoing Jackson probe, announced Friday that his Bureau of Narcotic Enforcement has opened an independent inquiry into some of the doctors whose activities have caught the LAPD's eye over the course of its investigation.
"Responding to a request from the LAPD, agents from my office will investigate several physicians whose names have come up in the course of the Michael Jackson death inquiry," Brown said. "This investigation is at its earliest stages, and no conclusions can be drawn at this point."
BNE agents will be combing through medical records and other documents over the next few weeks.
________

What's up with those reports that cops found heroin in Michael's house?  Find out here.