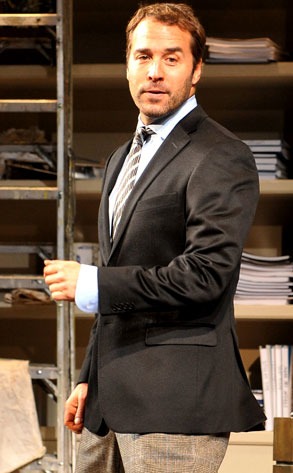 Slaven Vlasic/Getty Images
Jeremy Piven is once again free to pursue a career as a thermometer.
A professional arbiter has ruled that Piven did not breach his contract with the producers of Speed-the-Plow when he pulled out of the Broadway play last year, citing near death by spicy tuna (also known as mercury poisoning).
"I'm pleased with the outcome of the arbitration and to be completely vindicated in this matter based on the facts and the medical evidence," Piven said.
In making the decision, the arbiter said it sided with the testimony of the actor's medical team and threw out that of producers' doctors as the latter failed to ever examine Piven, despite ample opportunity, at any point before, during or after his sushi-inflicted three-day hospital stay.
The ruling claimed there was "sufficient evidence to establish that Piven's decision was a reasonable one; that it was reasonably based, and that the contrary evidence is insufficient."
The scales of justice have never been so scaly.
________
Well, Piven seems to have recovered nicely. Check out our raw footage of the Entourage star partying it up, Lakers-style.