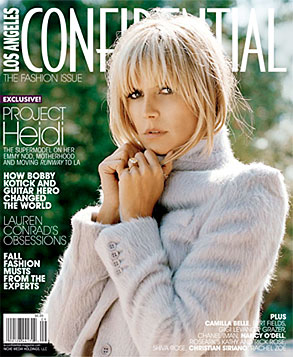 Los Angeles Confidential Magazine
Don't mess with a pregnant woman and her food!
Project Runway goddess/host Heidi Klum tells Los Angeles Confidential magazine that the best part of moving from Bravo to Lifetime is the grub.
"It's been great," Heidi says in her cover story, out Sept. 4. "They really wanted Project Runway to come on, and the lawsuit put a downer on things for a second, but they're excited to have us. They're very accommodating, particularly where food is concerned [laughs]. Food is so important when you're on a set. People are working from seven in the morning to nine or 10 at night, so it makes a huge difference if there's random mush or something really great. Maybe because I was pregnant, they always had doughnuts."
The supermodel-mom-host also talked about a "naughty" book project, cohosting last year's Emmys with other reality stars and more...