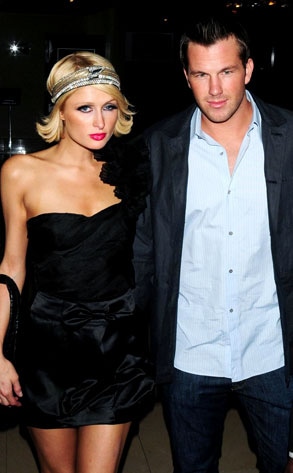 PacificCoastNews.com
Paris Hilton's hopping back into the grind (she told you she's "always working") after returning from her romantic vacay with on-again BF Doug Reinhardt. Dougie planned the trip to win the heiress back after their brief breakup, and it totally worked like a charm.
But the dirty-dancing duo still haven't stepped out in public again. And they might not for a while: Par's currently up north in Twi country filming a bit part for Supernatural. (Which V-town pair do we have to worry about Ms. Hilton corrupting more, Jackles or Robsten?)
Now that P's out of Doug's eyesight, she's found a way to absolutely guarantee he doesn't forget about her again—not for a friggin' millisecond, folks.
So in what totally outlandish way did Paris accomplish this?
Says a superclose amigo to Hilton: Before jet-setting to Vancouver, Paris had her team pay a visit to D.R.'s house, bringing over life-size photos of herself to hang throughout the mansion. And we don't exactly think she got Dougie's permission! Talk about an extreme home makeover.
Certainly not entirely self-minded, P.H. managed to frame a few pictures of the two of them as well, hamming it up for the camera in all sorts of ridiculous kissy-kissy poses. P's crew hung them all over chez Reinhardt for all houseguests to gawk at—or laugh at, depending what reaction you usually emit while staring at pics of Paris.
"Seriously, there were only a few photos that survived Par's redecorating," says our freaked-out source. Dude's house is basically a Paris Hilton art gallery—maybe he should charge admission? He could make back some of the moolah he spent on their trip to Fiji, fer sure.
Personally, we'd rather hang a painting of Lauren Conrad crying in our home than a cornucopia of Paris pics, but that's just us.