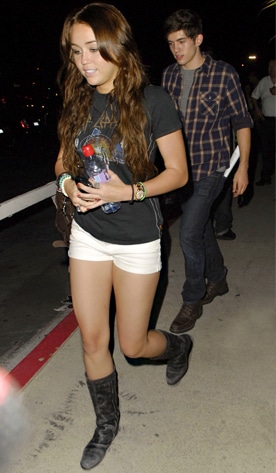 Fame Pictures
The last we heard about Miley Cyrus' dating life was less than a week ago. She was reportedly spotted sharing a kiss with Liam Hemsworth, her onscreen love interest in the upcoming flick The Last Song.
But I'm told whatever the two may have had going on, it was nothing serious.
In fact, not only did the movie wrap this weekend, but within a couple of hours of landing back in L.A. from the Savannah, Ga., set, Ms. Miley was on a date with a new guy.
Well, not so new...
The 16-year-old starlet went to the Kings of Leon concert with Carter Jenkins, 17, an actor she briefly dated before former underwear model Justin Gaston.
Shortly after Miley and Carter arrived for the star-studded show, I'm told security escorted them to join Justin Timberlake and Jessica Biel in the best seats in the house—the technician's booth!
Later, the foursome was spotted going backstage for a VIP afterparty.
Carter tweeted after the concert, "KOL killed it. Awesome show & very fun night with MiCy @mileycyrus."
Carter is currently filming the celeb-filled Garry Marshall film, Valentine's Day. Cyrus will soon start shooting a new season of Hannah Montana.
________
Check out the Hannah Montana star's many looks in our Fashion Spotlight: Miley Cyrus photo gallery.