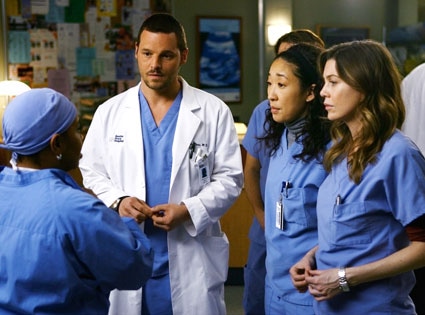 ABC/SCOTT GARFIELD
Grey's Anatomy is getting two new guest stars, and they're a little...different. We've got the scoop on these new characters in the spoiler section below.
Plus, we spill on Sam Merlotte's attempts to escape Maryann on True Blood, the dish on how Hilary Duff's past catches up to her on Gossip Girl, what brings Jayma Mays back to Heroes and the truth about Laura Leighton on Melrose Place. Read on for the dish!
buffy_131: Do you guys have some kind of fall premiere list? I might just have missed if it's already been posted. Thanks!
Our fall premiere list is online now, and we update it regularly, so bookmark it and check back often!
Steph in Highland Park, Calif.: How is Michelle Trachtenberg going to juggle Gossip Girl and her new show Mercy?
Gossip Girl's Georgina Sparks herself tells us, "I can't even begin to guess what the writers have in store for me. I mean, Mercy is definitely something that will take a lot of time and will be spearheaded, so there will be a little bit of a combination of everything. The great news is that if Georgina isn't in as many episodes as one would think...and she kind of can't die ever. So she'll be in and out always."
Tina in Denton, Ohio: Are we going to find out Sarah Walker's real name on Chuck?
There are no plans to reveal Sarah's real name on Chuck. Even the actress who plays her, the lovely Yvonne Strahovski, hasn't even been told what it is. "I do not know Sarah's real name, nor do I know what's happening at all in the third season. None of us do," says Yvonne. How's that for superduper secrecy?
Lyndsey in Redondo Beach, Calif.: I heard a rumor that Emily Deschanel's sister Zooey might be on Bones. True or false?
Will you accept a "hopefully?" We heard the same thing about the lovely Zooey Deschanel, so we asked sister Emily at Comic-Con, and she told us this: "We've been trying to get her on. We haven't figured that out yet. She's a very busy person." Added Bones show runner Hart Hanson, "We've actually written parts that she can do, and then it doesn't work out. We'll just keep trying."
Megan in Fredericksburg, Va.: Is there any way you could find out for us who is singing the song in the season-five promo of Supernatural? Thank you!
The version of "O Death" in the Supernatural promo is sung by Jen Titus and was produced and written especially for the show. You'll be able to get a longer version on cwtv.com in the near future. We'll let you know as soon as we hear that it's up!
Lori in Mountain Views, Calif.: Hey, WWK crew! The new season of Greek is just one week away! Any good news for us Cappie/Casey fans? Please?
Good news...hmmm. There may be some good news, but you'll just have to wait until tomorrow for our Greek-themed Spoiler Chat. Check back then when Dilshad Vadsaria and Amber Stevens exclusively spill everything you want to know this season.
Austin in Los Angeles: Have you seen the Family Guy videos with Stewie beating up Brian over who he should vote for in the Emmys?
Yes, and if you haven't seen the Family Guy spoofs of who Brian is voting for this Emmy season, you must check out each video before watching the final blow. Stewie has finally given up when it comes to Showtime's hit series Weeds.
Gina: When is Kristin coming back? It seems like she's been gone for years!
All we can say is that Kristin will be back before you know it—we miss her too! (FYI, it's only been five months.) In the meantime, keep your eyes on E! (she might pop up on your TV before she's back online), and we've got a brand-new pic of Luca for you to enjoy.
M.J. in Talladega, Ala.: Any news on Grey's Anatomy? I can't wait for the new episodes.
Sources tell us that Grey's Anatomy has cast two very hairy new guest stars: a monkey and a bear. Yes, in an upcoming episode, the Grey's castmembers work with a monkey and a bear, and no those aren't euphemisms for something. Will the monkey and the bear fare better than Meredith's mangy dog or that deer Izzie did surgery on? Tune in to find out!
Abram in Jersey Garden, N.J.: Anything you can tell about Olivia's new guy on Gossip Girl?
Olivia's (Hilary Duff) new guy is actually an old flame. Olivia first appears in episode four on Gossip Girl this season, and shortly thereafter we meet her ex-boyfriend, who's interested in getting back in her life.
Delilah in Seattle: Is Sam Merlotte now safe on True Blood?
Nuh-uh. Maryann ain't gonna stop coming for Sam on True Blood—she needs a juicy sacrifice for her god. Sam keeps thinking it might be better for Bon Temps and all his friends if he gives himself up in exchange for their lives, but as every action hero knows: You don't negotiate with terrorists! Luckily, Sam's got a savior waiting around the corner. Any guesses who?
Marie in Long Beach, N.Y.: Do you have any scoop on Jayma Mays returning to Heroes this season?
Sources tell us the original plan (which could, of course, be changed at any time) for Jayma Mays' return to Heroes was this: Hiro (Masi Oka) jumps back in time to the diner where Charlie (Jayma Mays) works, and this time successfully kills Sylar (Zachary Quinto). This jacks up the Heroes timeline (obviously), but the upside is that Hiro then is able to meet with alive-and-well Charlie at a bar in Japan. We're hoping that this plan is still on the books for Heroes season four and that pair reunite before Hiro kicks the bucket.
Tom in Jonesboro, Ark.: I saw in the Heroes promo that Claire is going to college this season. Is she trying to live a normal life?
Not only is Claire (Hayden Panettiere) trying to have a normal life, but she's also rushing a sorority this season. What happened to the little Clairebear we all know and love?
Karen in Lewistown, Mont.: Any scoop on how Juliet will return to Lost? Besides what Elizabeth Mitchell herself teased, Josh Holloway hopes for a special Suliet reunion. "Maybe she'll be this beautiful angel that appears and you can have this erotic scene," he jokes. In all honestly, Josh doesn't have a clue what's going to happen with Juliet, but he does know how it affects Sawyer in the new season. "Now that he's lost Juliet, I think the leader-hero thing is gone. I think he doesn't give a s--t to be anyone's leader at this point. He's heartbroken. He's back to 'The world sucks' and maybe throughout this season someone can redeem him again and bring him back from hell, because right now, he's in hell."
Dan in Orange, Calif.: Is there any hope for Sawyer next season on Lost
Do you mean, is there hope that the executive producers won't kill Sawyer in the final season? Josh Holloway isn't holding his breath on that one. Josh tells us, "Knowing Damon Lindelof, Sawyer must die. Maybe Carlton Cuse will soften. I always thought he should die. I think he should die because him and society is never going to work, so why go back?"
Kelly in Scottsdale, Ariz.: I want more Melrose Place dish!
Laura Leighton (Sydney Andrews) tells us the new Melrose Place certainly isn't your big sister's Melrose Place. "It's reflection of the times...It's much more modern," she says. "A lot of changes in the last 10 years; technology has changed, and it's all incorporated in the new show. The characters are texting, and it's a big part of their lives. The look of the show is a lot edgier. There is an envelope that is pushed. Josie [Bissett, Jane Mancini on the original] and I were joking about it. We were so naive and sort of goofy. We were just sort of along for the ride on our experience, and we look at these kids now and they look terrific. They know how to walk down the red carpet...They just know so much more." So has the new cast asked her for advice? "No! They ask me for ChapStick!"
Gina in Greenville, S.C.: Melrose Place, please.
Shaun Sipos, who plays Michael Mancini's son David, tells us to expect lots of screen time with Katie Cassidy's Ella because they're "two sides of the same coin," and also Stephanie Jacobson's Lauren (a future doctor who may or may not inch her way into prostitution to help pay for med school).  Shaun also gave fair warning to David's Thomas Crown-esque thieving ways and a temper that may boil over a time or two.
Jen in Dallas: Is Daphne Zuniga done with One Tree Hill because she's going to be on Melrose Place?
Daphne Zuniga is going to be back on One Tree Hill. She's doing just one or possibly two episodes of Melrose, so that won't conflict with OTH. Her return to OTH is just dependent on their storylines.
Sam in Lock Haven, Pa.: Are we going to see more of the gay storyline with John Cooper on Southland, or are they dropping that this season?
Southland is definitely sticking with the storyline of Cooper's sexuality. Michael Cudlitz, who plays Cooper, tells us, "It's going to evolve as we spend more time with him. We will learn more about his sexuality just from being with him." Michael definitely doesn't have a problem with these storylines, joking that he's really hoping to show some skin: "I want them to see my butt."
Matt in Canoga Park, Calif.: What else can you tell us about the new season of Southland?
Shawn Hatosy, who plays Detective Sammy Bryant on Southland, spilled these goodies to us recently: "It's kind of picking up where we left off. It still has the honest approach at this world. My wife [Emily Bergl] and I are still not getting along so great. It seems like we're heading toward something big this season. I can tell where the scripts are going by the training they give us. All I'll say is they brought in a gang detective who was a D3, the highest rank, detective three, like a supervisor of gangs. He came in and talked to us a lot about the birth of gangs in L.A. and walked us through all the steps these guys go through. So that tells me they're probably going to be delving a bit more into that."
Melora in Pittsburgh: I spotted Anna in a couple of Supernatural promos. Is really back, or is that old footage?
Anna does indeed return for Supernatural season five. She first appears in episode two and is slated for additional appearances. (In the meantime, don't forget that you can also see Julie McNiven now and again as secretary Hildy on Mad Men!)
Michelle in Atlanta: Are Silver and Dixon over on 90210, or is there hope for them?
We don't want to give false hope, but Jessica Stroup teases, "Will you see us kiss? Yes. Will we continue to kiss for the whole season? I don't know." While both have new love interests coming in, they still care for each other. Tristan Wilds tells us, "It's definitely a rocky relationship. We're having our ups and our downs. You never know where we fall, but right now we're separated."
Leona in Albuquerque, N.M.: Any more 90210 scoop?
Supersexy newbie Trevor Donovan is coming onboard as the rich son of an Oscar winner who stirs things up with Adrianna and Navid. "I have a connection with Adrianna. We have a little past, so obviously I'm creating a little tension, a little drama," says Donovan. Is he a bad boy? "Not intentionally. He is causing a little trouble, but he's somewhat oblivious to it."
Mary in Tampa: 90210 scoop, please.
Don't worry about Kelly getting involved in any rumored love triangles. "I definitely am not going to allow Kelly to be a homewrecker," Jennie Garth told us exclusively. "The producers and I have talked about it. It's not something I'm interested in, and it's not something they're going to do." Why not some added drama? "I've spent too many years trying to create this woman other women can trust," she said.
Sarah in Pasadena, Calif.: Are we even going to see Dustin Milligan at all on 90210, or is Ethan gone for good?
Gone for good, though Jessica Stroup tells us, "Ethan is happy in his world. He's doing his thing wherever he is. He gets a mention and is talked about a little bit, but he's happy." Are you happy with that? Discuss in the comments.
Savannah in Westchester, N.Y.: What can you spill on The Mentalist? It's my favorite show!
The Mentalist star Simon Baker tells us, "We have a new character in several episodes by the name of Terry Kinney who's going to take over the Red John case." Obviously, that makes Patrick Jane cranky, but the upside, says Baker, is that there is some "nice sparring"  between Jane and the new arrival. Baker also promises that there will be lots of continued sparring with Robin Tunney's Teresa Lisbon, but don't count on kissing anytime soon. Damn.
Lori in Bangor, Maine.: Will Sarah Chalke be back on How I Met Your Mother?
If you ask Josh Radnor (HIMYM's Ted Mosby), the return of Stella (Sarah Chalke) is unlikely. "She had a rather inglorious end. So I don't know if they're going to be able to bring her back," Josh told us. (Boo.)
Danielle in Miami: Any Greek scoop for the premiere next week?
Ashleigh and Casey are having big problems this season. Amber Stevens tell us, "Their friendship will be tested. [The fight] won't last too long, but they are definitely unhappy with each other and have to figure out if they can make their friendship work. Ashleigh is mad at a lot of people next season."
Max in Chicago: More Greek please!
Did you think Comic-Con was really over? Not for Cyprus-Rhodes! Dilshad Vadsaria teases, "There's a whole Comic-Con episode. There are aliens involved."
ABC FAMILY/ERIC MCCANDLESS
Meredith in San Diego: Any new info about 10 Things I Hate About You? It's sooo adorable.
Agreed. 10 Things is the best. Look for a major rager at the Stratford house (apparently daddy Stratford is MIA for the night), wherein one of the sisters kisses a boy and the other one gets so drunk that the next morning she can't remember what she did with the object of her affection.
Melody in Miami: Where's the Sons of Anarchy scoop? You've been holding out lately!
This season on Sons of Anarchy there will be...pornography! Sam Crow is helping Otto's old lady, Luann, run her X-rated video business, and that means there are lots of half-naked girls around to entertain the boys. One of the actresses, a seemingly sweet single mom, sets her sights on new widower Opie, and another, very aggressive tart wants Jax for herself. Tara doesn't like that very much, naturally, and you will love what she does about it.
Cima in Detroit: Are we ever going to see poor Ziva again on NCIS?
We asked NCIS star Pauley Perrette that very question, and according to her, "Yes, in the season premiere." Oh, but how—how will we see Ziva again?! "You gotta watch. It's complicated and crazy, but it's TV at its best."
Kevin in Tempe, Ariz.: Any scoop on The Closer's season finale?
We can tell you that someone on the team is badly injured in tonight's season finale. Also, Brenda (Kyra Sedgwick) goes toe-to-toe with a Texas detective who's trying to steal her serial killer.
Nell in Wichita, Kan.: Weeds is so amazing this season, but I'm getting worried for Nancy and Esteban. What's to come?
As Weeds star Hunter Parrish tells us, "Our last few episodes of every season are always superintense." Give us a hint about what happens. "We always talk about leaving everywhere we go. We're always on the run." Hmmm...
Julie in Lake Forest, Mich.: Do you know anything about the final two episodes of Weeds?
We do. Sort of. Allie Grant, who plays teenage lesbian Isabelle Hodes on the show, gave us an exclusive interview filled with riddles. "In the beginning of the season, we saw Celia retreating from the rebellion camp in Mexico, and by the end of the season, she's reliving that with a very eclectic band of misfits," teased Grant. "The dynamic completely shifts again. Everything changes." Hmmm, sounds like the end of the fifth season will be just as explosive as the last four!
Helene in St. Paul, Minn.: Any Numb3rs news for the new season? I watch it with my family every Friday, and we can't wait to see the new episodes.
Navi Rawat tells us, "Amita and Charlie are getting married at the end of the season. I think it actually will happen onscreen, which is rare for television." Cross your fingers for some onscreen wedding-dress shopping, too!
Merry in South Carolina: I heard that Tara is going back on her meds on United States of Tara—say it isn't so!
It is so, but don't worry, we aren't losing the alters. As Tara star John Corbett tells us, "I think Tara's going to try her meds out, and try to become more normalized, but there's a TV show here, and we need her to freak out once in a while to make it interesting." Meanwhile, daughter Kate is out of high school and working on her GED. Young Marshall, for his part, is still "struggling with his identity." As Corbett tells it, "He has a young male friend and a young female friend, and he doesn't really know what's up."
Eric McCandless/ABC Studios
Vik in Shreveport, La.: Got any Ghost Whisperer goodies?
Sure do. When we chatted up Jennifer Love Hewitt and her boo, Jamie Kennedy, last week, they told us that one of their favorite scenes for the new season so far was this: "We got to do sort of a Nick and Norah-esque scene the other day where we got to be funny and serious, and cause trouble. That was a lot of fun," says J.Love. As for Jamie, he says he gets to flex his emotional muscles more this year. "This is the first time where they let me do emotional stuff. It's been hard. I look at her and say, 'Jeez. How do you cry so much?' " J.Love says, "He's really good at it. People are going to be really impressed."
David in Bristol, Conn.: Any scoop on Parks & Recreation? Are they still working on the pit this season, or have they abandoned it for a new project?
Aubrey Plaza confirms that the pit is still a big part of this season: "The pit is still there. The pit is kind of our grounding place. I know that a lot of crazy things are going to happen in the pit, outside of the pit, with the pit and with people surrounding the pit."
Jason in Monroe, La.: I can't wait for the new season of So You Think You Can Dance!
You won't have to wait much longer. Season six premieres Sept. 9! What can you look forward to? 17-year-old Nathan Trasoras is coming back this season, and we just cannot wait to see this again. Also, the World Champion Ballroom dancer auditions this season, and there's another set of same-sex ballroom dancers trying to make the cut, but not the same guys as last year.
Alethea in New York: The Biggest Loser is the most inspirational show on TV. What have you heard about the next season?
The new season of The Biggest Loser starts out with a bang! We watched the first episode, and within minutes there wasn't a dry eye in the office. Before the contestants even have time to introduce themselves, there's a challenge so intense one contestant has to be taken away in a helicopter. "We've never had a group of contestants this big," trainer Jillian Michaels rants. That's putting it lightly. One contestant weighs more than any contestant ever before...and she's a girl. Get ready to be inspired.
—Reporting by Natalie Abrams, Kirstin Benson, Carrie Borzillo-Vrenna, Jennifer Godwin and Megan Masters