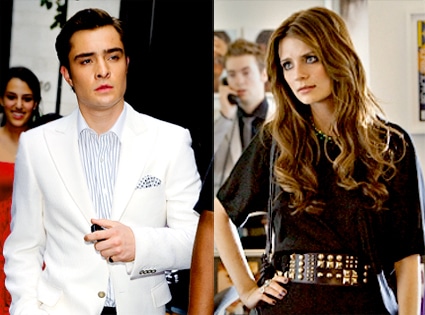 Ray Tamarra/Getty Images; Takashi Seida/The CW
Just because Mischa Barton's had some well-publicized personal issues lately doesn't mean the powers that be behind her new CW show, The Beautiful Life, are going to shy away from certain close-to-home storylines.
The big question is: Now that we know Mischa's not doing a disappearing act—though producers teased someone will in the pilot—will they be holding back the types of stories one might expect a young model in New York to go through?
Here's what executive producer Mike Kelley told us today at the CBS and CW special online screening session about Mischa's storylines and a possible Gossip Girl crossover episode with The Beautiful Life...
Humberto Carreno/startraksphoto.com
"No," he said. "I had that conversation with Mischa, and those stories were going to be told with or without Mischa being the actress in that role, so I just said I didn't want to be insensitive with what was happening with her. But at the same time I didn't want to not tell interesting and dramatic stories, and she was so game.'
"There are things that we had planned on doing with Sonya's character that we did not shy away from at all," added executive producer Karey Burke. "It's dealing with a character that is living her life in the spotlight, being hounded by the paparazzi, who is at a massive turning point in her career, where it's sort of make-it-or-break-it time, and there are things thematically where it's exactly what's going on with Mischa's life, and she's embracing all of them."
Yes, this means we can expect Mischa's Sonya to dabble with drug use. "Mischa's character ends up sort of taking a page from the whole Kate Moss situation and kind of using it to her advantage," Karey told us exclusively.
"She had a rough go of it for a bit there," added Mike. "She's a kid. She's 23-years-old, and she's growing. Things are behind her that were negative, and she's really focused on the positive. She looks great, and her acting is terrific. She's very positive and excited, and so are we. We feel really, really lucky to have gotten past this and to have her on the show. Her character is integral to all the stories, so her character is not going anywhere and neither is Mischa."
Meanwhile, it's not that hard to imagine Blair (Leighton Meester) and Serena (Blake Lively) sitting front row at a fashion show featuring Sonya  or Chuck Bass (Ed Westwick) flirting with new model Raina (Sara Paxton), so why shouldn't we expect a crossover between the two New York-based CW shows?
Mike and Karey spilled that they're already thinking of a way to get the casts of Gossip Girl and The Beautiful Life to join forces in a mega-New York crossover.
While nothing is set in stone for the crossover right now, Mike teased a possible storyline that he'll be pitching to Gossip's executive producer Stephanie Savage: "My idea—since these things happen—there are blackouts. The idea is that we have two shows that exist in the same city, and if our cast is on the subway, and their cast is on the subway, and then the subway shuts down. We don't even have to necessarily cross them; we can simply tell two stories with them in the background and maybe have one or two characters cross through." Karey also told us she wouldn't mind Chuck Bass stealing some of the models, natch.
Finally, other guest stars you can expect range from designers Matthew Williamson, Erin Fetherston and Project Runway's Nina Garcia, to model Jessica Stam and the Versace and Calvin Klein brands. Also, Elle Macpherson is sticking around for seven of the 13 original episodes, and her storyline "takes you into her personal life that gets intertwined with Mischa Barton's personal life in a really interesting and surprising way," said Karey. There's only a slight chance that executive producer Ashton Kutcher could be in front of the camera. For now, his only plan is to hopefully direct an episode.
What do you think of a Gossip Girl and The Beautiful Life crossover? Scared Chuck's wandering eyes may cause trouble with the models and, more importantly, Blair? How about Mischa's storylines? Discuss in the comments!
________
Did you see the nude photos of The Beautiful Life cast?