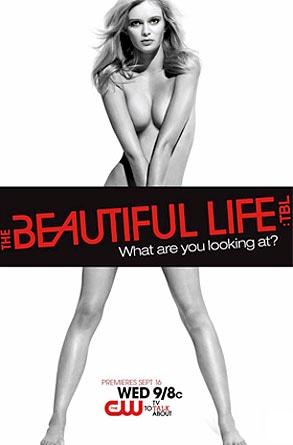 The CW
Joining Melrose Place, Gossip Girl and 90210, producer Ashton Kutcher's new show The Beautiful Life looks pretty similar to everything else on the CW. Plus, it's got the whole "starring Mischa Barton" thing to overcome.
Which may explain the whole new tune-in campaign for TBL: Ads with naked people.
Makes sense. Melrose Place already called dibs on "Tuesday's the New Humpday" and 90210 grabbed the low-hanging testicular angle, so what other moderately salacious thing is there, really?
Since Mischa is missing from the naked lineup (as well as Elle Macpherson and Nico Tortorella), you'll just have to make due with Sarah Paxton, Corbin Bleu, Ashley Madekwe and Ben Hollingsworth.
But really, now that you've seen them naked, is there any reason to tune in?
________
Wanna see what CW stars look like with their clothes on? Check out our gallery of the network's Sexy New TV Shows.