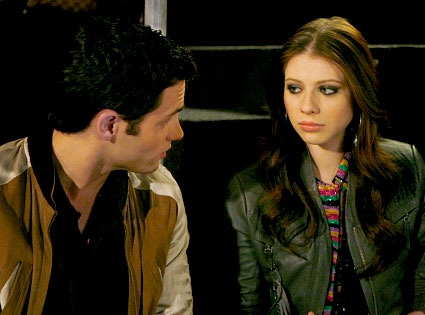 Patrick Harbron/The CW
Hold the phone! Is Gossip Girl's newest twosome really Dan Humphrey and Georgina Sparks? We've got the inside scoop on that hot pairing in today's Spoiler Chat, along with dish on Chuck's Awesome future, Dexter's Trinity Killer and major marriage trouble for a favorite couple on Brothers & Sisters...
Mike in Indianapolis: Fringe scoop, please.
Oh, Fringe, how you tease us with your out-of-this-world fantasies. At the Television Critics Association press tour, Fox gave reporters copies of the newspaper seen in the alternate universe that declared the Obamas were moving into the new White House. Some of the other top stories from "over there" include:
President John F. Kennedy is still alive and active in politics.
The powers that be can manipulate the weather.
The stock markets have been closed for 21 days and counting.
All four Beatles are all alive and heading out on a reunion tour.
New Orleans is hoping to host the 2016 Summer Olympics, leading us to believe the Crescent City was never hit by Hurricane Katrina.
Genetically engineered glow-in-the-dark pets are available for purchase.
Guns N' Roses' Chinese Democracy album was released in 2000!
Dwayne Johnson plays the Terminator in a stage version of the movie.
Former star Arnold Schwarzenegger is now a senator.
So which universe do you want to live in?

Jeannie in Santa Barbara, Calif.: I'm so excited for the new Melrose Place. Any new scoop?
As we all already know, Katie Cassidy plays bitchy badass Ella—the new Heather Locklear with a twist. "I do play a bisexual character, so there are some interesting experiences that have been happening. It's truly acting," says Katie. Now the hot stuff: Do Katie and Ashlee Simpson-Wentz (Violet) have a little girl-on-girl action? "Ashlee and I have not had any kissing scenes, [but] I'm sure they're going to write in anything they can to stir things up." 
Sara in Sunnyvale, Calif.: When is My Boys coming back?
Sources tell us the cast finds out this week if My Boys has been picked up for a fourth season. We'll let you know as soon as we hear anything!
Matt in San Antonio, Texas: I hear the season premiere of NCIS is going to be amazing. What can you tell us?
Well, Pauley Perrette (NCIS' Abby) is "super pumped" about it, and tells us this: "It's crazy. It's awesome. I will say that there is a lot of Michael Weatherly, who I think is one of the most talented actors on the planet Earth, and he's not bad on the eyes. He is a force. He is so incredible in this episode. It's heavy on Michael. His work in the season opener is not to be missed."
Terry via Twitter: Patricia Arquette has worked with her brother David on Medium, so is there any chance of sister-in-law Courteney showing up?
Courteney Cox is busy with her new ABC show, Cougar Town, but Patricia told us that she'd love to have the whole Arquette clan on Medium. "I really want Alexis to do one and hopefully Courteney at some point." (And don't forget, she already said they hope to have David back to direct or act in an episode.)
Steve in Flint, Mich.: What can you tell us about the season finale of Nurse Jackie?
We've seen the Nurse Jackie finale and could spill on everything, but that's no fun for you. Instead, here's what Peter Facinelli (Dr. Cooper) can reveal: "I can say that nothing gets tied up in a neat little bow for the end of this season. It's like life. The end of the day is not wrapped up in a neat little package. You have to wait to tomorrow to see how today really was. That's how it is with this show." 
Karla in Philadelphia: No Paula Abdul on Ugly Betty?
You must have seen the news this morning, but Paula is definitely a no-go on Ugly Betty. Bummer! We have learned that former 3rd Rock From the Sun star Kristen Johnson, however, joins the newly madeover Betty this season.
Kelly in Michigan: Please tell me that the Dan-Georgina hookup in the Gossip Girl promos is misdirection!
No can do. Michelle Trachtenberg's Georgina and Penn Badgley's Dan really do hook up in season three of Gossip Girl. Naughty! (BTW, in case you missed 'em, check out our exclusive on-set interviews with Penn, Michelle, Jessica Szohr and Leighton Meester!)
Mickey in Arizona: I can't wait to see Hilary Duff on Gossip Girl! When does she start?
Hilary Duff's Olivia Burke is introduced in episode four, and she'll be sticking around for a while.
Jason Merritt/Getty Images
Tommy in Toronto: Is Awesome really going to be a spy this season on Chuck? How will that work?
Chuck star Ryan McPartlin (Devon "Awesome" Woodcomb) spells it out for us: "I don't know if I'll be made a spy, but I'm getting involved in the spy world. Chuck's going to [be] in a pinch and call on me to help him out." Makes sense, but we have an important question: Will this mean more or less clothes? "I don't have to just be shirtless for no reason, but I'm sure my shirt will come off for random acts of God." Whoo! As McPartlin says, "I feel like it's amazing because it's like the first season, when Chuck got to carry the weight of the secret. I get to bring that [spirit of the] first season back again, through Awesome's eyes. And I'm just gonna lean on [Sarah and Chuck] for advice on how to do that."
Joel in Ames, Texas: Am I the only one worried that Chuck is going to be way too different with the new kung fu intersect?
Actually, yes, because we think it's an awesome new twist, but Captain Awesome himself wants to ease your mind. When we ran into Ryan at the NBC TCA party, he explained the new season perfectly: "We flipped Chuck on its ear. We're going to give the audience what it expects, but not the way they expect it. Chuck used to be protected from the world, now the world has to be protected from Chuck." Have we eased your mind yet?
Kaitlyn in Seattle: Since Bryce Larkin is dead on Chuck, at least Chuck doesn't have him getting in the way between him and Sarah anymore, right?
Au contraire, there's a chance that Bryce Larkin isn't really dead and that he could return to shake things up a little. Matthew Bomer tells us, "I'd love to go back, but it's really going to depend on scheduling [with White Collar]. There is a possibility that I will be back on Chuck."
Laura in Cincinnati: Rob Lowe mentioned there was going to be a gigantic twist with Robert McCallister and Kitty right off the bat at the beginning of the season and people will be shocked. Have you heard any rumors on what is going to happen on Brothers & Sisters?
It's too early to reveal Brothers & Sisters' big season-four twist for Robert McCallister and Kitty Walker (Calista Flockhart), but suffice it to say, their marriage is tested by both external and internal forces.
Casey in Palm Springs, Calif.: I know they don't start shooting Friday Night Lights until September, but have you heard anything else about the new season? I'm obsessed!
So are we. Check out our juicy tidbits about FNL from last week's Spoiler Chat. If that doesn't satisfy your cravings, read on. We spoke exclusively with Aimee Teegarden (Julie Taylor), and she shared her vision for season four: "I really hope there's a dance this season, because we've never actually had a real prom! I want a corsage. I want a dress. I want the family pictures. I want the whole shebang." Who would be Julie's date? "Matt Saracen could take me. They could still go to prom together, right? I would have to ask him though. I think that's how it works when your date is not in high school." We asked her if she had much creative input on what happens in the show. "Sometimes I talk to [executive producer] Jason Katims, and say, 'Julie needs to do this.' And then it'll be written in. It's really funny," Aimee said. Excellent, we would love to see Matt and Julie break it down on the dance floor!
Tasha in Buffalo, N.Y.: I have heard a lot of Penny and Leonard buzz from The Big Bang Theory? What does this mean for us Sheldon and Penny fans? Please tell me there is something we can look forward to!
Erm...sorry. According to Emmy-nominated Big Bang Theory star Jim Parsons, "From what I hear, Penny really is going to start dating Leonard for a little while, but what a waste of time...for both of them." (Hee.) As for Penny and Sheldon, "I think that they are so sibling-like. It would be wrong to introduce sex into that relationship."
Melody in Williamsburg, Va.: Thanks for the Private Practice scoop. Are Pete and Violet really going to get together?
"When we first started, everybody wanted me and Kate Walsh to be together," Tim Daly tells us. "They were dying for it, and they didn't get it. Not to say they might not in the future, but now people are rooting for me and Amy Brenneman to be together. They might get it. They may have thought they had it at the end of last season—maybe not so much this season."
Bobby in Phoenix: Is Ari ever going to promote Lloyd on Entourage?
Ari (Jeremy Piven) is being a bit harsh, right? As much as we'd love to report a quick and happy ending for Lloyd, Rex Lee tells us things may not be what they seem. "It's not going where people think it's going," says Rex. "People think I'm either going to get a promotion or not and aren't really paying attention to all the other options that there are." Hmmm, what other possibilities? Perhaps Lloyd the agent? Lloyd the actor? "When people see what happens, they're gonna be a little surprised."
Bruce in Miami: Is Naomi going to hook up with Rumer Willis' character on 90210 this season?
If AnnaLynne McCord has any say in it, heck yes! "Maybe Naomi gets a little drunk, maybe she has a little peck on the lips with Rumer. It can't hurt anybody." As for N's overall mean-girl status this season, AnnaLynne promises: "I'm a lot funnier and a lot nicer this year."
Jon in San Francisco: I'm stoked for Glee to air on Sept. 9. My favorite character is the mean cheerleading coach. Is she going to sing in any episodes?
"They told me I will," says head cheerio Jane Lynch, who has sung in movies like The 40-Year-Old Virgin and A Mighty Wind. She told us the show has already written in another one of her talents: "I danced. I did a Lindy hop with Matt Morrison (who plays glee club coach Will Schuester). I flipped him around like he was the girl. It was so much fun. He was doing leaps. He worked so hard and then there was me." Jane also said she thinks Glee is going to be huge...and we agree!
Hannah in Carson City, Nev.: Any Criminal Minds scoop? Will Shemar Moore's broken leg have any impact on the series?
According to Criminal Minds costar Joe Mantegna, "Shemar's pretty indestructible. He's the toughest guy in the world, so it would take a lot to break him. I haven't heard anything to panic about, although I may be kicking down a few doors myself. [My character David Rossi] may have to pick up the slack." Sounds good to us!
Kelly in Redding, Calif.: Any news on season four of Dexter? I'm so excited!
According to new castmember John Lithgow (love him!), Dexter and the Trinity Killer won't come face-to-face until midseason, but from that point on, he says, "We'll be spending a lot of time together."
USA Network Photo: Gregory Peters
Tim: What does the departure of David Maples from In Plain Sight mean for his wife, Holly Maples? Is her character, Eleanor Prince, still going to be on the show, maybe as a regular? Her interactions with Mary have been some of the best parts of the show this season.
Agreed. Sadly, a USA Network rep says, "It's too early to address any casting questions for the upcoming third season." And outgoing In Plain Sight executive producer David Maples himself says, "I have been completely out of the loop on what's happening next. I know that they are making some changes. As far as Holly goes, she was not under contract last year; she was a guest star that was there from episode to episode. Thus far, nobody has contacted her, so I don't know what their plans are." Consider this the beginning of our campaign to keep Holly Maples as Eleanor on In Plain Sight. She's been the perfect addition to the Witsec office, and we need to keep her!
Laura in Oakland, Calif.: The Office scoop, please!
We have tons of fabulous Office goodies coming your way soon, but right now, how about some Stanley Hudson info? Leslie David Baker tells us that this season, "You get to see another side of Stanley, more personality, more of him getting along with his coworkers." While he tires of Michael Scott's antics, Leslie says: "He's still not ready to pack it in and leave Dunder Mifflin entirely." Thank goodness!
Louanne in Las Cruces, N.M.: Any news yet on season two of United States of Tara? It's one of my favorite shows.
The beautiful Rosemarie DeWitt, who plays Tara's sister Charmaine, tells us, "I've seen the first four scripts, and this year, Charmaine's love life heats up quite a bit...so that's fun for the actress playing her." And who does it heat up with? "Various. That's all I'll say." Mmmm...dirty!
Courtney in Tucson, Ariz.: I just started reading The Vampire Diaries, and oh my goodness they are fantastic! Do you have any idea on how closely the new TV series will follow these wonderful books?
You'll see a number of differences right off the bat in the first ep. First, Elena's very young sister has been replaced by a troubled teen brother, and the siblings are returning to high school several months (as opposed to several years in the book) after their parents' deaths. TV Elena is the virtual opposite of book Elena: the blue-eyed blonde is now a Bella-like brunette. As for the vampires, instead of his romantic rooftop boarding-house quarters, Stefan lives with an "uncle" (another nonexistent character in the first novel)—but Damon is definitely eee-vil, beginning with the gruesome opening scene. Other characters and relationships have been slightly tweaked as well—for better or worse? We're dying to hear what you think, so be sure to let us know after the Sept. 10 premiere!
Interns Wanted: We're looking for a new fall intern to help us cover television for E! Online! If you live in the Los Angeles area, attend a college that offers school credit for internship work, love television and have strong writing skills, please submit a resume and cover letter to tvdiva@eonline.com. Let us know about any relevant experience, what shows you watch and why and what days of the week you would be available to work. Thank you!
Have a burning question about your favorite TV series? Email tvdiva@eonline.com for answers!
Want the latest updates ASAP? Get Kristin's RSS feed and follow Kristin on Twitter. For more photo and videos, visit Kristin on Flickr and YouTube. And don't forget to visit Kristin daily at kristin.eonline.com.
—Reporting by Natalie Abrams, Kirstin Benson, Carrie Borzillo-Vrenna, Jennifer Godwin and Megan Masters