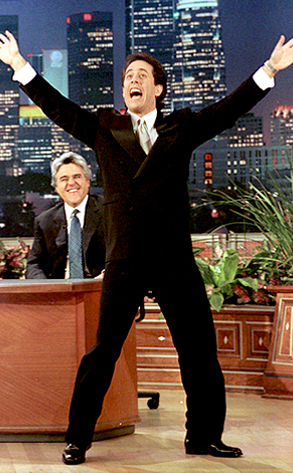 NBC/Chris Haston
He's got the killer performers, a troupe of funny folks and a start date. What's Jay Leno missing for his new nighttime talker?
Oh, right! Actual people to talk to!
Lucky for him, Jerry Seinfeld has signed on to be the first guest on The Jay Leno Show when it makes its bow on NBC on Sept. 14.
They'll probably gab on about the comedy king reuniting with the cast of Seinfeld for Curb Your Enthusiasm, his upcoming NBC series, The Marriage Ref, and yadda yadda yadda.
The whole evening is shaping up to be quite the yukfest. Wonder what episode two will be like...