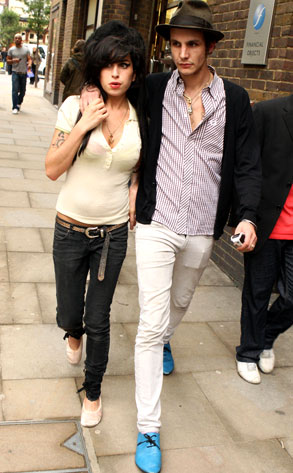 Hedges/Goffphotos.com
Amy Winehouse's cat is, well, quite the cat's meow on Facebook.
If multiple British tabs are to be believed, the "Rehab" crooner has been chatting away under her kitty Shirley's social networking profile. Only, she isn't just talking to fans and randoms. Word is, her cyber pal is none other than her ex-husband, Blake Fielder-Civil.
The two were granted a provisional divorce last month following a tumultuous two-year union. The legal split is set to be finalized Aug. 28. In the meantime, Fielder-Civil has been cleaning up in a countryside rehab center.
According to reports, Shirley has posted several status updates, including one in which she says she loves "Sailor," a known nickname Amy has for her ex.
Blake Incarcerated (yeah, that's another pet name, but not one of Amy's) has an evolving relationship status on his profile, starting with the "single" declaration when he first joined. He's since switched to "it's complicated," and now it supposedly says "married."
One of Shirley's other posts purrs, "Sailor, sort it you're her co-hort. consort still. as you both know you're unswerving. just as much as you're deserving."
We're not sure what that's supposed to mean. We just hope this whole report gets tossed out like a fur ball.