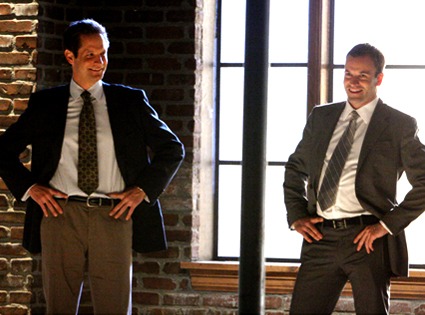 ABC/RICHARD CARTWRIGHT
Just over a month ago, the dearly departed Eli Stone aired its series finale after months of being on hiatus. Fans got to say goodbye to the show, while learning that Eli (Jonny Lee Miller) and Maggie (Julie Gonzalo) got their happy ending and Wethersby Stone was safe from foreclosure.
We've since learned that this fairy-tale ending is not the case. We caught up with executive producer and creator Marc Guggenheim, who spilled the complete future for Eli and the gang, which was especially easy since they had scripted four episodes past the series finale. Since those episodes are not airing, we thought Eli fans might want to know what would've happened.
For true fans, some of the following will shock you. Some of your favorite couples don't end up getting their happily ever after, while one new couple—that will leave your jaw on the floor—does. You also may be surprised by who might've played Taylor's (Natasha Henstridge) mother.
Be prepared...
Eli and Maggie: "The idea was going to be that Eli starts dating Maggie, and then just as things are going really great, there's a knock on the door. He opens the door to his apartment and there's Grace [Katie Holmes], who is back in town."
Eli Ends Up With Grace? "We didn't know whether or not he would end up with Grace. Obviously had we gone to series, it would've been difficult for him to end up with Grace because we didn't have Katie Holmes on a weekly basis. But we thought it would be nice to bring her back for an episode, and she was game. We wanted to end the season with her."
Maggie and…Nate?! "Maggie and Eli don't end up together. Maggie and Nate [Matt Letscher] end up together. In episode 11 of season one, when you saw Eli [10] years in the future in Times Square, the baby that Maggie is holding is her baby, but it's with Nate. We were going to revisit that flash-forward and return to Times Square. You would see that Nate arrived late, and as Eli took the stage, he was going to push his way through the throng of people to meet up with Maggie."
Dr. Chen and Nate: "They were going to go into practice together. We had Nate lose his job at the hospital and eventually Nate and Chen [James Saito] were going to open up an Eastern and Western medicine practice. It was going to be like The Odd Couple."
Matt and Taylor: "They were going to get married. Taylor would eventually have their baby. Matt [Sam Jaeger] was going to be the surprisingly good father. Taylor would find it difficult to balance work and motherhood, but Matt would show a surprising ability for being a dad."
ZumaPress, Steve Granitz/Getty Images
Jordan, Taylor's Mama and the Firm: "Jordan [Victor Garber] was going to reconnect with Taylor's mother. We were hoping to get Goldie Hawn. That was the plan and hope. [Also], Wethersby Stone was going to continue to grow and prosper. Maggie would eventually come back to the firm."
Happy Eli Ending? "Eli gets a very happy ending. Basically the overall plan for the show was that with each season, Eli's profile would get bigger and bigger, until by the end of the series, he would be talking to crowds of thousands of people. His profile would grow until he actually found it difficult to practice law because he had so much notoriety. Then the show was going to shift from Eli being a lawyer to being more of an active prophet. One of the things we always said on the show was Abraham Lincoln was a prophet, Martin Luther King Jr. was a prophet, Gandhi was a prophet. All three people met premature ends. As Eli's profile grew, the danger grew to him as well."
What do you think of Eli's would-be future? Are you surprised Maggie ended up with Eli's brother Nate? Hit the comments to discuss!
________
Get the scoop on executive producer Marc Guggenheim's other show, FlashForward.