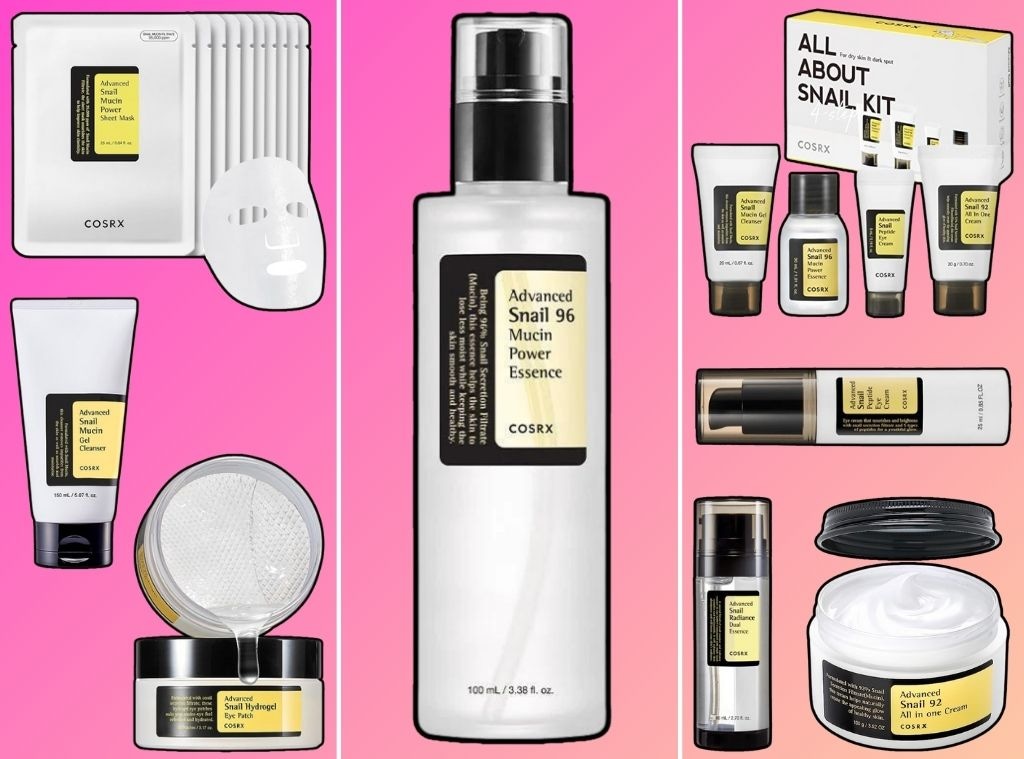 E! News Illustration / Photos Courtesy of COSRX, Amazon
We interviewed Dr. Sheila Farhang because we think you'll like her picks at these prices. E! has affiliate relationships, so we may get a commission if you purchase something through our links. Items are sold by the retailer, not E!. Prices are accurate as of publish time.
Whether you absolutely love it or have yet to try it, if you're at all interested in skincare, you've most likely heard of the internet-viral, cult-fave COSRX snail mucin essence. Even amid the ever-growing popularity of Korean beauty products over the last few years prioritizing both skin health and affordability, this essence is arguably in a league of its own, taking the beauty world by storm due to the near-unbelievable results it delivers (think: "glass skin" IRL).
And it's not just us who think so. E! spoke with Dr. Sheila Farhang, board-certified dermatologist, cosmetic surgeon, and confirmed "huge fan" of snail mucin. We asked her everything you wanted to know about the viral skincare product, from why it's so popular to proper application methods and even whether any snails are harmed in the process of making the product (spoiler: they're not). Once you've learned all you need to know about COSRX snail mucin, head on over to Amazon's Black Friday sale and get ready to stock up, because the essence is only $14 right now for a limited time! While you're at it, why not pick up the entire line, from the cleanser and moisturizer to the eye cream and sheet masks? (Or, y'know, the gift set — one for you & one for your bestie!)
COSRX Snail Mucin 96% Power Repairing Essence
With 45,700+ five-star ratings on Amazon, the COSRX snail mucin essence has earned a highly devoted following among beauty aficionados. According to the brand, it's formulated with 96.3% snail secretion filtrate that repairs and rejuvenates your skin, helping to target skin concerns like dryness and dullness. Multiple Amazon shoppers have called this essence their "holy grail," with one reviewer writing:
"I'm in my 40's and have spent SO much money on skincare in the past few years and have finally found my holy grail. I'm not really sure what this product is supposed to do but for me it felt moisturizing (I live in a hot tropical climate and most true moisturizers leave my face looking oily), cleared up nose breakout, evened out texture, kept oil under control, and even made my blackheads WAY less prominent. It's got a gooey almost sticky consistency that spreads very smoothly over the face and dries to nothing, I use it before applying my retinoid at night and add a layer after. In the morning I use it before sunscreen (Australian Gold) and don't need to wear makeup anymore! Believe the hype!"
Photo Courtesy of Dr. Sheila Farhang
What skincare benefits does COSRX snail mucin offer?
According to Dr. Farhang, snail mucin tends to take form as a serum in skincare, meaning it has some seriously potent ingredients. In the case of COSRX's snail mucin essence, you can use it in the morning or evening, depending on your individual preferences. All things considered, she noted that the biggest benefit that snail mucin offers is its "hydrating and soothing aspects."
Offering a more in-depth look at the ingredients, Dr. Farhang added, "It has a whole bunch of properties, kind of naturally, which is really cool. It has hyaluronic acid, which we all know is a great hydrator. It pulls in a thousand times its weight in water; it helps plump up the skin. It has proteins and peptides, which are really good to help build up the structural part of the skin."
Another potential benefit of the essence is its anti-inflammatory and anti-microbial properties. Dr. Farhang clarified that this is not necessarily why people are primarily using it, but it can help explain why their skin and acne seem to get better after usage. Sounds like a win-win situation to us!
How should you apply the COSRX snail mucin essence?
Knowing how great the essence is for your skin, this would be the next logical question to ask to ensure you're getting all the beauty benefits. Dr. Farhang walked us through her preferred application method and the science behind her recommendations.
One of the primary ingredients in the snail mucin essence, apart from snail mucin, is hyaluronic acid. According to Dr. Farhang, "That's the product that we usually say, "OK, apply it on a damp face and then put your moisturizer on top so the hydration capabilities are optimized," because with hyaluronic acid, it's pulling in moisture."
However, she added, "If your skin is dry and you also live in a dry climate — like where I live, in Arizona — it could potentially dehydrate the skin because it doesn't have any water to pull from so it's going to pull it from your own dehydrated skin, basically. So, that's why we say apply it on a damp face. It doesn't have to be wet."
In fact, Dr. Farhang advises against applying this on a wet face, equating it to an "oil-and-water phenomenon." Instead, she recommends that after washing your face, you should lightly (lightly!) pat it dry so it's slightly damp, after which you can apply the snail mucin and your other skincare.
But wait, there's more! If you're a fan of facial tools, the COSRX snail mucin is the perfect medium for providing the necessary smooth glide over your skin so it's not being tugged and traumatized. According to Dr. Farhang, you can use tools like a gua sha, jade roller, or the cult-fave Solwave skincare wand, which she "really like[s]."
What step should the COSRX snail mucin essence be in your skincare routine?
Repeat after us: "It's always thinnest to thickest."
According to Dr. Farhang, you would first cleanse and then apply toner, which has a water-like texture (although it's worth noting that she doesn't usually recommend toners for skincare). Following that, "You apply serum, and then you would apply your cream, whatever that is, and then if you want to apply your moisturizer, you can do that, and then you apply your sunscreen last." Dr. Farhang also noted that if you're wearing makeup, that would go on after sunscreen.
When asked about whether we have to wait for each skincare product to fully absorb into your skin before applying the next step, Dr. Farhang said, "This is debatable. I mean, yes, maybe in the perfect world, you would want to let it all absorb in before you put on the next." But because we don't live in a perfect world where snooze buttons are never pressed, Dr. Farhang noted, "As long as it feels kind of tacky and you feel like you've rubbed it all in, I'm OK with not waiting and just putting the next step on, just because it's a little bit more practical." The important thing to remember in these cases is to apply from thinnest to thickest, and you should be A-OK.
Are there any other products you recommend that might offer similar skincare benefits as the COSRX snail mucin essence?
Because everyone's skin is so different, Dr. Farhang noted that it may be more helpful to first consider what your personal skin concerns and goals are. The question she recommended asking yourself is, "Why am I using snail mucin?" Additionally, Dr. Farhang advised, "It's the properties and ingredients that people should look for, and then they can look backwards and see, "OK, what other serums may have this?" and then work from there."
For example, say you're looking for products to soothe your irritated or deeply hydrate it. In this case, you "could use a product with just hyaluronic acid or a product with panthenol, which is vitamin B5," according to Dr. Farhang.
With that being said, COSRX has a full line of snail mucin-infused skincare that are widely loved and referred to as "holy grail" products by Amazon shoppers. Check them out below, along with some of the many, many five-star reviews they've earned on Amazon.
COSRX Advanced Snail Mucin Gel Cleanser
This gentle gel-to-foam cleanser is packed with snail mucin to help restore your skin barrier while deep cleansing and balancing your skin's pH, according to the brand. Because of its mild, hypoallergenic formula, this is a great everyday cleanser that will keep your skin feeling soothed, clear, and radiant.
One Amazon shopper wrote, "I have extremely sensitive skin and I could never find a serum and cleanser that works for me, until now. This stuff is a miracle in a bottle. I purchased the serum and the gel cleanser. I've used it twice a day for only 2 days and I'm seeing major results. My skin is glowing, texture smooth, no dryness and no stinging. This skincare line is inexpensive and more than worth it. I'm currently waiting for their toner and moisturizer to come in. Buy buy buy !"
COSRX Snail Mucin 92% Moisturizer
This all-in-one cream works to repair and soothe sensitive, irritated skin after breakouts while simultaneously nourishing, plumping, repairing, and hydrating. The rich, gel-type formula has 92% snail secretion filtrate and absorbs instantly into your skin, leaving it feeling refreshed and looking amazing.
According to one Amazon shopper, "I love this product and this is my 5th time repurchasing. Will definitely buy again. Always have to have an extra container so I never run out. SUPER hydrating and soothing. I'm a tretinoin girl and this stuff helps my face recover when I have those dry peely/flakey sensitive days. It's a staple in my skincare routine. No fragrance no stinging or burning, just simple, pure and lasting hydration. I prefer this to the Snail Mucin Essence, this one is better if you have dry skin type, thicker and longer lasting than the essence. LOVE IT"
COSRX Advanced Snail Peptide Eye Cream
Lightweight, hydrating, and fast-absorbing, the COSRX Advanced Snail Peptide Eye Cream will take your skincare game to the next level. I've actually used this since last year after cycling through a few other popular eye creams without seeing much of a difference, and I've never looked back since. And it's not just me; multiple Amazon shoppers have raved about the incredible results this eye cream has given them.
One reviewer even called it "magic," adding, "I'm a 25-30 y/o guy, never once used facial products. Started one and decided to use this to get of my dark circles. I noticed VERY minor changes in 2 days. Within a month it's been almost gone. I don't even mind if it never gets better than this, it looks WAY better than when I had them a month ago."
COSRX Advanced Snail Hydrogel Eye Patch - 60 Patches
OMG, I adore these hydrogel eye patches with all my heart. According to the brand (and from personal experience), these eye masks visibly hydrate, plump, and brighten your eye area. The gel-textured formula is supercharged with skin-loving ingredients like snail mucin filtrate and niacinamide. Plus, I love that they come in two sizes (small and large) so I can hydrate specific areas of my face along with my eye area without having to add a lengthy step in my skincare routine with a separate face sheet mask.
One Amazon shopper wrote, "As I have aged, my smile lines showed up in the corner of my eyes closest to the nose. So, not a pretty picture. This product line has remarkably changed my skin from crepey and dry, to a dewy, hydrated glow. I wasn't sure that I needed the patches, as I have the serum and cream, but like the 20-30 minutes of serum applying to the skin without drying down. Love the little tongs that at included in the inner cap. I get iced out at the idea of my fingers in something I'm going to wear on my skin. Great product, and it's kinda fun, too."
COSRX Niacinamide 5% + Snail Mucin 74% Dual Essence
This dual essence is made of two different essences that dispense at the same time. The clear essence delivers elasticity and hydrating benefits while the cream essence works to improve your skin's barrier and radiance, according to the brand. It's also brimming with skin-loving ingredients like 74.3% triple snail complex and 5% niacinamide.
According to one Amazon shopper, "I was using the one with just the snail mucin but I wanted to try this one to even the color of my skin. And I'll tell you want two weeks later I have significantly less redness in my skin. AND my normally very reactive skin (turns red just by touching it) has improved as well. Every day I wake up and just stare at my skin. This is my new holy grail product."
COSRX Snail Mucin Sheet Mask - Pack of 10
These sheet masks are dipped in 35,000 ppm of snail mucin to deliver nourishment and deep hydration to your skin. The naturally derived cellulose sheets are designed to perfectly hug your face so the formula disburses evenly into your skin for maximum absorption.
One Amazon shopper who called these masks "incredible" wrote, "These face masks are my favorite masks I have ever used. The leave my face looking so dewy and shiny and beautiful and moisturized and healthy! I literally look like I'm glowing after I use these! I am obsessed and get them for all my friends and family as gifts! Who doesn't love a glowy, dewy face? And they don't make acne worse or flare up or anything, so that's a PLUS!"
COSRX All About Snail Korean Skincare Gift Set
If you're new to COSRX's snail mucin skincare line or want to gift the beauty lover in your life with skincare they'll love, this four-step All About Snail gift set is perfect for your needs. It includes trial sizes of the brand's most-loved snail mucin products, including the cleanser, essence, eye cream, and all-in-one cream.
According to various Amazon shoppers, this bundle is also great for travelers who want to maintain glowing skin even on the go. One review reads, "I have nothing but great things to say about this product and all the products in their line, from the eye creams to toners and serums. Yes, I use them all. I started with the travel or sample kit, and I liked it so much, I bought the largest size in the entire line and then some, because it's that affordable. My skin is ultra hydrated, and glass like with great texture. The slime part takes a little getting use to, but for what it does to my skin, it's worth it. Plus, there's no scent at all and, according to them, "no snails are harmed," If you're unsure, try the travel sized sample kit. I highly recommend this product & all their products from this company."
If you're looking to shop more holy grail beauty products, check out our shopping editor's detailed review on why Olay's Super Serum has become the skincare product she can't live without.