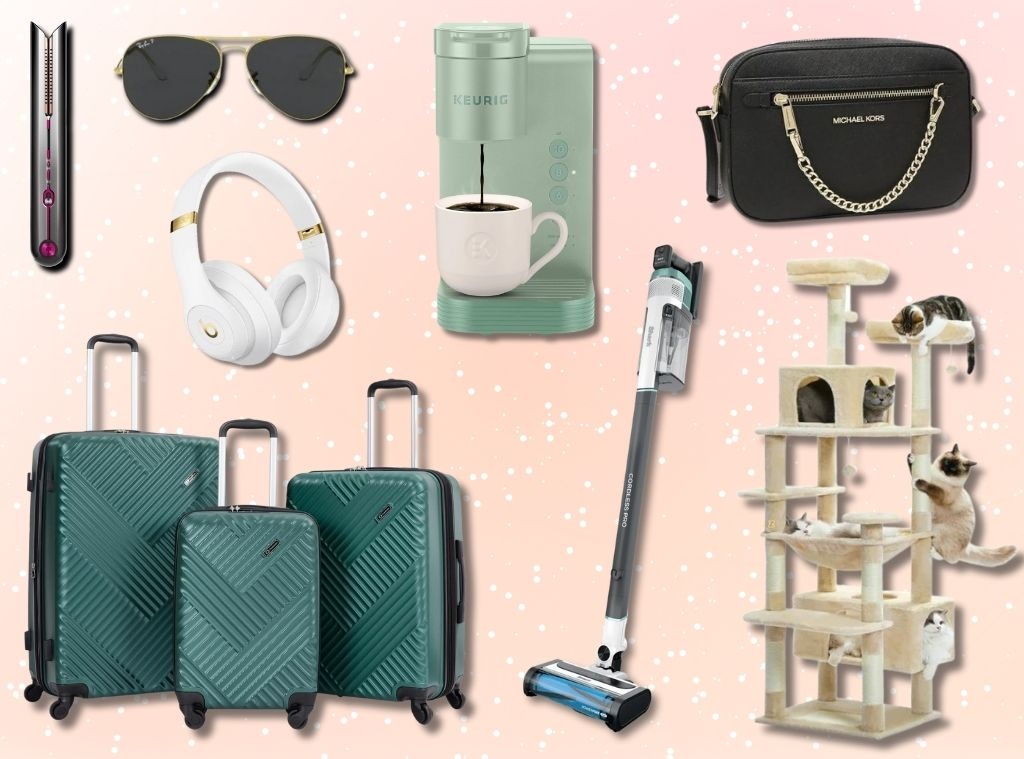 E! News Illustration
We independently selected these deals and products because we love them, and we think you might like them at these prices. E! has affiliate relationships, so we may get a commission if you purchase something through our links. Items are sold by the retailer, not E!. Prices are accurate as of publish time.
Gosh, where do we even start? There are so many incredible sales going on right now even though Black Friday isn't officially here just yet, making this the perfect time to check off everyone on your nice list without dragging your wallet through the annual gift-shopping trenches. From sweater weather must-haves to home & kitchen essentials, it seems no matter where you turn, there's a great sale waiting just around the corner for you.
But we're taking the long way home today, because the sale we bumped into isn't just great; it's sublime. Walmart's Black Friday sale is currently live, and she's gorgeous. She's an icon, she's a legend, and she is the moment. From $260 off the fan-fave Dyson hair straightener to a $329 luggage set for $93.99, these deals are the gifts that truly just keep giving. Whether you're looking to shop home, tech, fashion, wellness, or more, Walmart has it all. And we've got all the best deals in each category, all just for you, gorgeous.
We could go on and on about just how mindblowing these deals at Walmart are, but TBH, it's easier to just show you (because they're that unbelievably amazing). Keep scrolling to check out some of the best ones we've rounded up, but don't take too long to start shopping, because these finds are selling out fast!
TopVision 4 Pcs Security Wired Camera System
Save $310 on this comprehensive camera security system. The set includes everything you need to set up the four cameras, which are also equipped with infrared LED so you can keep your home safe and secure even in darkness. The camera system can transmit data through wired and wireless network, and the system uses its own 2.4G wireless WiFi network so you don't need to use your home wireless network, according to the brand.
According to one Walmart shopper, "This is our first purchase for home security camera, we were looking for something which is budget friendly with a good quality, it satisfied everything, it came with a four cameras, the quality of the quality is very good, we can connect it with our phone, putting them in different corner of the home was also easy, we did ourselves with the help of clear instructions, you can connect with your wifi. Its a waterproof as well, we live in a cold, snowy place, so far didn't find any issue."
Travelhouse 3 Piece Hardside Luggage Set
If you're planning to travel during the holiday season (or any time in the future!), you absolutely can't miss this amazing deal on Travelhouse's 3-piece hardsell luggage set. The suitcases are designed with multiple packing compartments, side hooks for hanging your bags, TSA-recognized locks, and double spinner wheels for easy movement.
One Walmart shopper wrote, "Excellent quality. This luggage is as lightweight yet well-made as the ones I'm replacing — which lasted 14 years of at least 4-6 round trips (2 flights each way) to Africa and Europe each year. Most luggage now comes with double wheels, but it doesn't wheel well on the paving stone path to my rural US house, so I looked for the wider, more solid single wheels to work well on the rough pavement and cobblestones there, and these are great. The handles feel even more solidly attached than those on my old suitcase, so I expect these to last a long time, too."
Michael Kors Jet Set Leather Crossbody Bag
Not only is this chic Michael Kors crossbody $323 less than its retail price, it's also available in 12 different colors and patterns! It's as functional as it is stylish, with an outer zip pocket, two outer slip pockets, two inner slip pockets, and an adjustable shoulder strap.
As one Walmart shopper noted, "I was very apprehensive about ordering a designer purse anywhere besides the brand retailer, but I took a chance. I was not disappointed! This crossbody is beautiful. The craftsmanship is top notch and the quality is undeniable. I would purchase this again."
Dyson Corrale Straightener
Dyson hair products have amassed quite a devoted following in the beauty community, meaning they tend to sell out super quickly even at retail price. But right now, you can save $260 on a refurbished Dyson Corrale Straightener! According to the brand, this straightener is the only one that uses flexing plates to shape and gather hair, thus using less heat to achieve salon-worthy hair. The straightener also comes with a charging dock, magnetic charging cable, and a heat-resistant travel pouch.
One Walmart shopper wrote, "Amazing! Way beyond my expectations especially for a refurbished product. I believe those with poor reviews simply did not read the instructions on how to use the product properly. Dyson did it again!!"
Renpho Percussion Muscle Massage Gun
If you don't own a massage gun yet, let me tell you, it's a gamechanger. Whether you're a fitness enthusiast who trains to the fullest every day or someone with a stiff back and neck from working on your computer all day, the Renpho Muscle Massage Gun is an amazing tool for helping relax the tension in your muscles. I actually bought this massage gun last year (at full price, much to the chagrin of my wallet), and I use it nearly every day. It's that good.
According to one Walmart shopper's experience, "Aside from my better half being a massage therapist, having this Renpho massage gun at my reach is by far one of the best tools I have to tackle back, legs, neck or arm pain. It's especially wonderful at loosening my backs knots in the sciatica region. I was unsure which brand to go with as the market is littered with multiple brands, a friend of mine, another massage therapist, recommends this brand." They added, "The price is worth it as you could pay more than this just by visiting a massage therapist for one session; to have this at your disposal is like being able to schedule that massage anytime you need it which is very convenient. If you never tried one and get this I'm sure you will see the benefit, my back pain had continued for upto 2 decades, now I have much less pain and it's shocking as pain can be relieved in short amounts of time. I've tried the TENS unit and that supposedly only tricks the mind into less painful feelings while promoting blood flow.... (and I can admit the pain returned the same day after using TENS unit) this tool literally massaged the knots and pains out of me while also enabling more blood flow and literally lessening the overall size of any knots you may have! Enjoy!! Well worth it!"
Famistar Folding Treadmill For Home WIth 15 Levels
The new year is almost upon us, and if you want to get a head start on your fitness resolutions, this home treadmill is an amazing investment, especially considering you'll be saving $1,060 on it. It's decked out with cool features like 15 levels power incline, adjustable speed up to 10 mph (16 km/hr), bluetooth speakers, and 300 lbs. max capacity.
One shopper on Walmart wrote, "While shopping for a new treadmill, I was looking for a few different features. Bonus that it was discounted. I don't have much space in my basement and was looking for a lightweight, yet foldable and stowable treadmill. This treadmill certainly fits the bill. Easy installation. I wasn't expecting a speaker hookup, so that's a nice touch. I only really need to see distance traveled, duration of exercise time, and calories burnt for my records. The incline is rather slight, however, this is okay since I primarily run on flat surfaces."
Absoke Elevated Dog Bowls
Spoil your fur baby this holiday season without actually breaking the bank by saving $117 on this elevated dog bowl set. It's designed with five adjustable heights so your dog or cat can comfortably munch on their meal without straining their neck and back. It also comes with bottom foot rubber pads to protect your floor and keep the feeder in place, and the two stainless steel bowls are dishwasher-safe.
One Walmart shopper explained, "Good product. I purchased this set of elevated dog bowls for our very old medium-sized dog. She was having difficulty balancing when trying to eat from her regular bowls on the floor. With these new bowls, and the raised stand, she eats much more comfortably. Plus with the somewhat rounded shape of the bowls, she's somehow able to clean every last drop of her wet canned dog food, whereas previously, a lot of the "juice" would be leftover in her old bowls. I only wish we'd ordered this item a long time ago, before she was old even, because it just seems like it would be a lot easier for any age dog to use this type of bowl that is more level with their head instead of having to hunch over to eat. The water bowl is large enough that we only need to fill it once a day. Also the stand seems very steady and stable, even for our sometimes wobbly (old) dog. Our dog seems very satisfied with this product, and I am happy that she no longer has any difficulty reaching her food or water. Overall, it's great! No complaints."
Looking to shop more extraordinary sales happening right now? Check out the 16 best sales this weekend you'll regret missing out on!