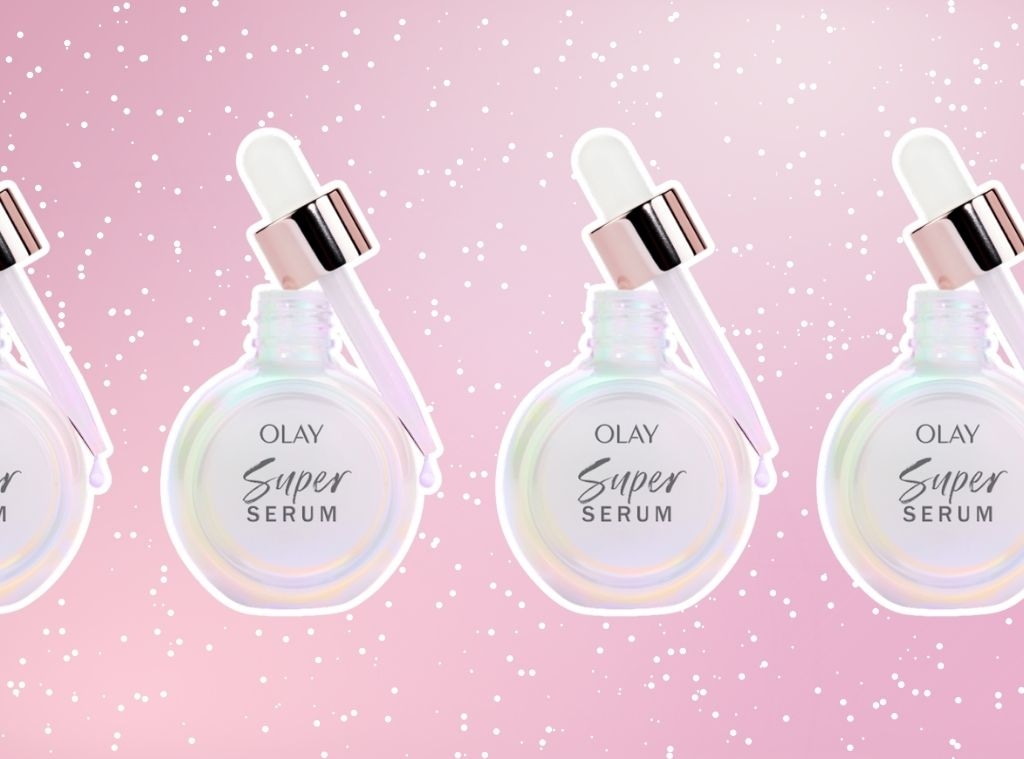 E! News Illustration / Photos Courtesy of Olay
We independently selected these deals and products because we love them, and we think you might like them at these prices. E! has affiliate relationships, so we may get a commission if you purchase something through our links. Items are sold by the retailer, not E!. Prices are accurate as of publish time.
As a Shopping Editor, my job is to test out as many products from every category possible to see if they're really worth recommending. But if I'm being honest, some of my absolute favorite products to test are beauty and skincare ones. You see, I've always suffered from dry skin, even when I lived in hot and humid Miami. But now that I live in New York City, I'm sure you can only imagine how much worse it's gotten. The even worse part? I also have an oily nose, so while my forehead is peeling at times, my nose is doing the complete opposite. Lovely, right?
So luckily, I get the opportunity to try out many products that have both improved or (unfortunately) worsened my skin at times. But every now and then, I find that one product that completely changes my life—and today, that's Olay's new Super Serum. If there's one thing you need to know about me, it's that when it comes down to both my morning and nighttime routine, my main priority is to quickly get it over and done with. While yes, the idea of slowly massaging and patting every moisturizer or serum onto my face and neck sounds (in an ideal world) amazing. In reality, I just don't have the time (or patience to be honest) for all that. That's why when I found out Olay's Super Serum contains all the key ingredients I've been using separately in one single bottle, I was genuinely impressed.
The formula is packed with potent ingredients like vitamin C for skin brightening and antioxidant protection, collagen peptides for skin renewal, vitamin E for soothing and moisturizing, and gentle AHA lactic acid to minimize fine lines. It's also free of parabens, phthalates, synthetic dyes, and mineral oil. Yes, I know it sounds too good to be true. But trust me, I was also skeptical at first. After a month of daily use, and making sure it was the only change/new addition to my skincare routine, I realized just how much better my skin texture looked. And while I don't often get breakouts, I do experience the occasional hormonal pimple here and there. But to this day, I still haven't woken up with a single blemish.
So there it is, Olay has somehow figured out how to create my dream skincare product. If you're ready to cut down your skincare routine by three to four steps, I highly recommend trying it for yourself. And priced at just $35, it's honestly a steal for its multitude of benefits, making it the perfect choice if you're looking to shorten your beauty routine without compromising effectiveness.
Olay Super Serum
Apply the Super Serum after cleansing, using only three drops of product to fully cover the face. You'll also love its pearlescent color (which is sustainable mica) that disappears once it's penetrated the skin. Once you're done, lock in all its benefits with a light or heavy (for nighttime) moisturizer.
Other Olay Special Mentions
Olay Regenerist Retinol24 Night Moisturizer Cream
This is another product I've tested out, simply because it's one my own mother has sworn by for many years (she's 55 years young, and still no wrinkles!!). Not only is it one of the few moisturizers that ACTUALLY hydrates my dry skin, it also leaves it feeling incredibly soft. In fact, so soft, my makeup glides on perfectly. 
Olay Vitamin C + Peptide 24 Eye Cream
I've always suffered from dark undereyes (thanks to genetics), so I try to find eye creams that can even just slightly improve it. Crafted with vitamin C, vitamin B3, and peptides, this eye cream has helped brighten up my undereyes, especially during those well-needed times when I've barely gotten any sleep. However, I recommend only using it two to three times a week if you have sensitive skin. I've found it can sometimes be too powerful for me, making my undereyes extra sensitive to the touch. But overall, the pros outweigh the cons.