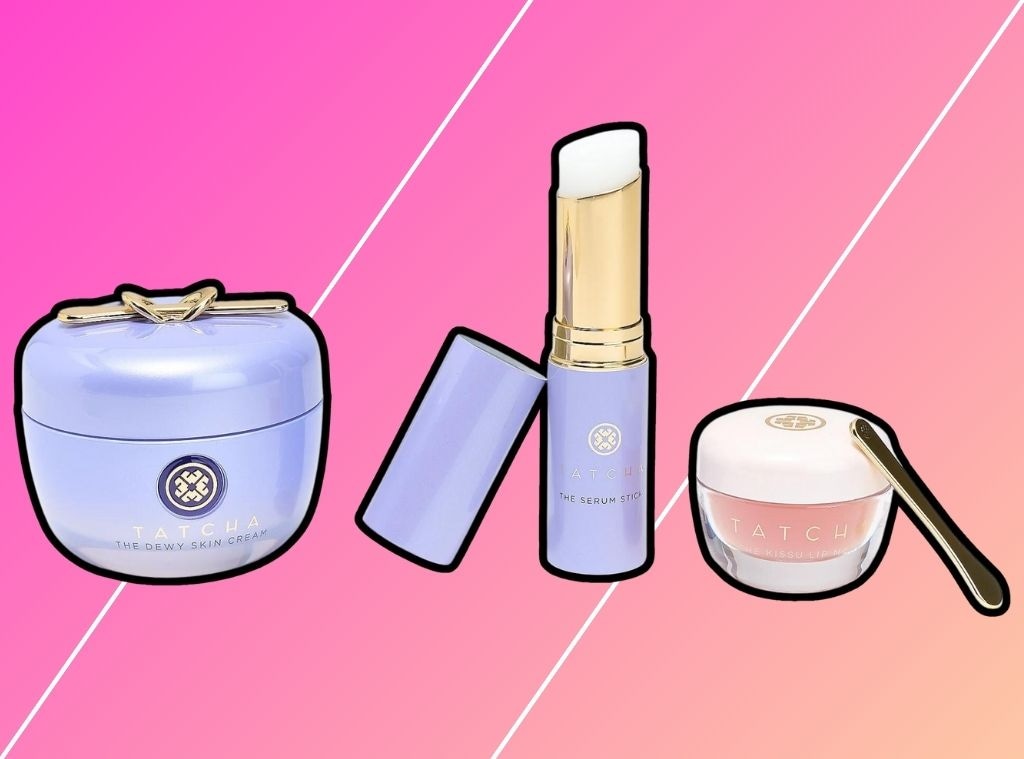 This article is sponsored by QVC. These items were selected from QVC because we love them and we thought you might like them at these prices. If you buy something from our links, E! makes a commission on your purchase. Prices are accurate as of publish time. Items are sold by retailer, not E!.
Winter is coming. How do we know? The weather is getting colder, the days are getting shorter, and our skin has been acting up faster than we can shop for new products to save it. If you've also been experiencing winter acne and sudden dryness despite making no change in your beauty routine, chances are it's due to the changing seasons. While we may be nearing the most wonderful time of year, the not-so-holly-jolly part of sweater weather is that our skin tends to be more quickly stripped of moisture, compromising our skin barrier and leaving it more vulnerable to bacteria, irritation, blemishes, and more.
If you've also had to embark on a hunt for reliable, ultra-hydrating beauty brands to help you get your skin back on track, we've got you. Tatcha, in particular, has earned itself a devoted following over the years for its makeup products that are packed chockful of rich, moisturizing ingredients that are gentle on skin. As a luxe-beauty brand, though, while Tatcha is certainly worth the splurge, there's no denying that our wallets shed a tear each time we add to our carts. But today's no ordinary day, because for a limited time, you can score the brand's bestselling skin cream, serum stick and lip mask (worth $150 in total) for just $78.98 on QVC. That's nearly 50% off the retail value, meaning it's the perfect opportunity to either stock up for the winter or grab an extra set to gift a loved one this holiday season.
Learn more about the must-have beauty value set below and why multiple reviewers love these Tatcha products so much, from their hydrating properties to the fast results they deliver.
Tatcha The Dewy Skin Cream, Serum Stick & Kissu
Keep your skin moisturized and glowing this winter with Tatcha's cream, serum stick, and lip treatment bundle. The Dewy Skin Cream is formulated with a special blend of Okinawa algae and hyaluronic acid to deliver rich-yet-gentle hydration to your skin. The Serum Stick works as both a concentrated treatment and touch-up balm targeting dryness, and it's packed with skin-loving ingredients like 80% squalane, hyaluronic acid, and Japanese lemon balm. Finally, the Kissu Lip Mask incorporates ingredients like Japanese peach and olive-derived squalane to help soften, smooth, and restore plush, kissable lips. Mwah!
Tatcha The Dewy Skin Cream Reviews
"The Dewy Skin Cream is fabulous. My skin never looked so suble and radiant. The fine lines and wrinkles are not visible anymore. My skin looks healthy. I apply it 2 times a day. One jar lasts me at least 9 months. I'd never go back and use anything else on my skin."
"My 16 yr old has really bad acne with rough patches. Dermatological creams were not working. While in Sephora she brought the sample trial size of this cream and the rice wash. Let me say Tatcha I give you high praises for your products. She only has the 10ml Dewy Skin cream and 15ml Rice wash and in a week her patches are visibly healed and softer. You can see the results and she is so happy."
"I've tried this, the Silk cream, and the Ageless cream. While they are all high quality products, this one is my favorite for its skin healing properties. I have eczema and am acne prone. This moisturizer helps so much with both issues. Any acne I have clears very quickly and barely leaves any redness behind. I'm in my 40's and would like to use the creams designed for firmness, but this one really helps the overall clarity and texture of my skin far better than anything I've ever used."
"I'm 55 years old and I have had clear skin my whole life until I developed post-menopausal acne on my chin area. I started using a retinol cream, which seemed to help a bit, but my skin was getting very dry and irritated and the acne never cleared completely. I don't have many wrinkles to speak of, but the condi!tion made my lower face look wrinkly. It was devastating. I read an article that recommended Tatcha Dewy Skin Cream for that exact problem. I'm using it in conjunction with the retinol cream and I actually started to see a difference the next day. It has been about 2 weeks since I started using it and the acne is just about completely gone and the dryness is a thing of the past. The bonus is that my skin looks amazing! It's soft, smooth, plump and lifted. My dreaded marionette lines are dramatically disappearing. I can hardly wait for the pandemic to be over so that I can show off my skin! I seriously look 10 years younger. I've been buying more tatcha products and I'm impressed with all of them. I've used many, many skin care lines, including very expensive luxury and niche lines, but none of them come close to Tatcha! I'm a Tatcha fan for life!"
"I was having some skin barrier issues…my face was red, itchy, dry and very uncomfortable. From the moment I started using this cream, my skin improved and now it is back, better than before. And no breakouts! My skin is sensitive and sometimes because of that, I will breakout when trying out a new product, but not this one. I've tried every luxury, clean moisturizer out there and this one is the best! Definitely worth every penny."
"Absolutely love this product. Its the best skincare I have ever used and started clearing up my skin in a short amount of time. It makes your skin feel great every time you use it. I used to have acne almost all the time now its maybe once a month or less. Your skin gets clearer and honestly I feel confident going out without makeup."
Tatcha The Serum Stick Reviews
"I am a skincare fanatic but that being said I am super picky and rarely am blown away. This product is super easy to use, before makeup or over makeup. I wake up and use it, so that I've got something working for my eye area right after I wake up and before I get to my skincare routine. I always apply before makeup, and throughout the day as needed. It soaks in but also leaves behind the perfect amount of plumpness and moisture which tells me the product is there and working."
"I used this on my T-zone area of the face and instantly felt matte and velvety smooth. Well hydrated without feeling heavy and feels so good on the skin. I use this as a primer. It's so good, my pores aren't as huge and makes my irritation and blemishes less red and noticeable. Love this. Holy grail!"
"I've been using for about 3 weeks. I'm normally very oily, but during the winter I get really weird dry patches, I can use at night all over, and during the day avoiding my tzone. This is the only thing that's made those patches normal textured and way more hydrated, plus I've noticed smaller pores"
"Keeps my under eye moisturized and combined with silk peony definitely notice my dark circles are lighter. No irritation. I carry the serum in my purse and have been known to use on my lips in a pinch."
"Started to use this serum two years ago after getting over a bad cold and having a very dry nose as a result. Not only did this serum help with that, it instantly became a favorite of mine to put on my eyes before any make-up to help it go on smoothly, and one of the last things I put on my eyes at night. It lasts, it's not goopy, (hasn't melted at all) and has no smell. It's an essential in my skin care routine and definitely recommended for dry eyes and sensitive skin."
Tatcha The Kissu Lip Mask Reviews
"Kissu lip mask LIVES by my bedside. I love it. Apply every night at bedtime and my lips are soft, pink and ready for the day every morning. I absolutely love this product. TRY IT, you'll love it!!!"
"I am a 59 year old women who had thinning lips. Since using tatcha's kiss lip mask every night before bed for the last 6 weeks there's a noticeable difference in my lips volume. They are more pillowly, have much more volume along with much more of a pout. Absolutely love this product. It feels very nice on the lips not sticky or messy. Comes with Read more about review stating Tatcha kiss lip maska handy applicator so you're not putting your fingers into the jar or touching your lips. It's like a mini spa treatment before bed. Love the way my lips look so voluminous. I will be 60 next month and I have my 20 year old lips back again. Please don't ever stop making this incredible product."
"Bought this lip mask because I have been so impressed by the dewy cream and rice wash. Within the span of 48 hours my lips became super soft and no visible signs of flaking or chapping. Glossy finish gives a light shine. But the shine is not the best part the best part is the feeling of the lips very refreshing feeling."
"I was trying a new lip product and it sensitized my lips and caused them to be tight, burning, chapped, and swollen. I needed something to help them recover. I purchased this lip mask and it has restored them to full health overnight. Great for sensitive lips. I still cannot believe that a product can yield such great results so quickly."
"I have been using this amazing lip treatment for a little over two weeks and my lips are night and day difference. I really was starting to panic over small lines around my lips and this is the only thing that has completely transformed my lips. The lines are gone my lips are soft and supple, they just feel so healthy. Thank you Tacha I could justRead more about review stating Lip lines no more! Kissu!"
If you're looking to shop more must-have makeup and skincare products this holiday season, check out our roundup of the best beauty stocking stuffers of 2023 that are all under $30!