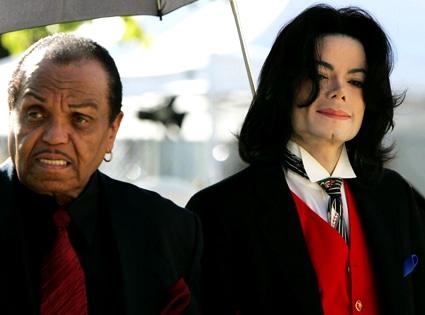 Getty Images
Just in case you weren't certain, Michael Jackson is "not buried yet."
Shooting down published reports (and backing up what we reported yesterday), father Joe Jackson tells E! News exclusively that his son has not already been laid to rest at Forest Lawn Memorial Park.
Joe declined to specify any burial plans or confirm whether his son's body has been placed in Motown maven Berry Gordy's crypt as some outlets have speculated.
The Jackson patriarch, who resides primarily in Las Vegas, also tells E! News he supports a proposal to move Neverland to Vegas.
"I think Vegas would be great," says Joe. And while he doesn't think the family would visit such a shrine to his son, Joe does believe "the fans would come."
Asked about Michael's ongoing death investigation, Joe says he prefers not to discuss it, only adding, "I still can't believe he's gone."
(Originally published Aug. 11, 2009, at 2:25 p.m. PT)