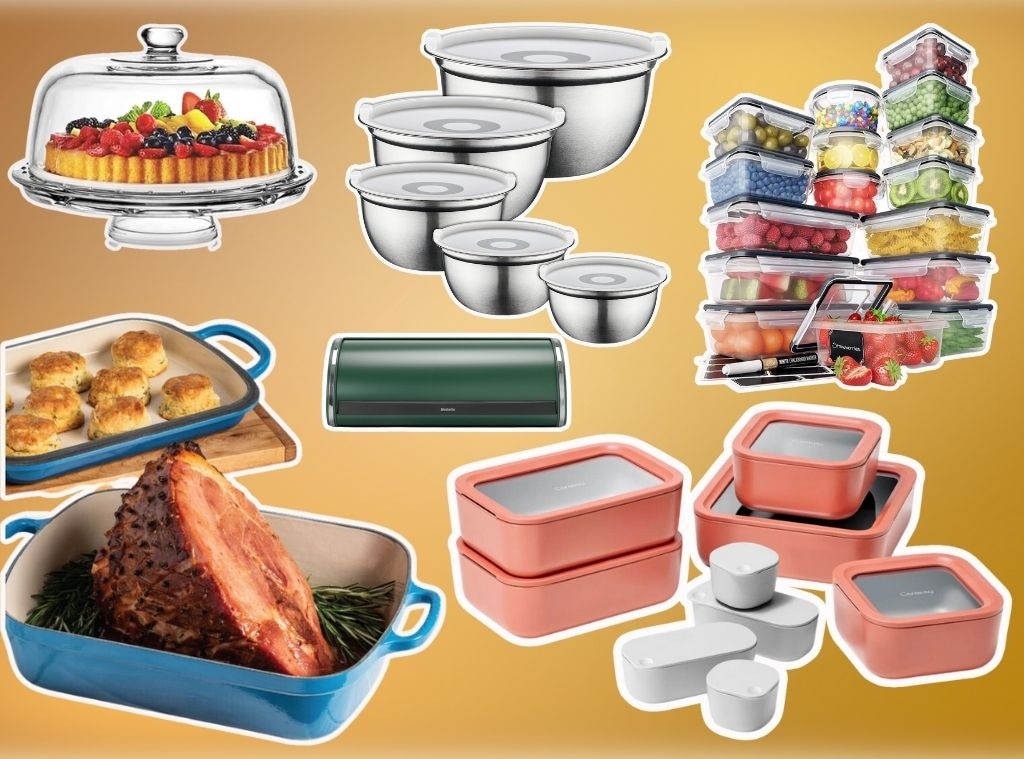 E! News Illustration/Photos Courtesy of Amazon, Caraway, Le Creuset, Williams Sonoma
We independently selected these deals and products because we love them, and we think you might like them at these prices. E! has affiliate relationships, so we may get a commission if you purchase something through our links. Items are sold by the retailer, not E!. Prices are accurate as of publish time.
When my family celebrates Thanksgiving, it's a lot like Lululemon – we make too much. And in the over abundance of turkey, sides, wine, and dessert, there's a mad scramble of random containers and bags to clean up and store in the kitchen. That is until one year, Uncle Fran (hi, Uncle Fran!) brought a box of plastic containers and the entire game changed. Now, we're a well-oiled machine of packing and distributing food. Everyone in attendance (even the pets) get leftovers for the week and whoever is hosting that year has a neatly stacked fridge. Nothing is wasted and nothing goes bad. Now, who wouldn't be thankful for that?
So, in preparation for the big Turkey Day, I've rounded up some products that will handle anything and everything that's leftover. We're talking bread baskets for leftover rolls, cheese vaults for leftover brie, glass containers, plastic containers, freezer bags, and more. Some of these items are chic and stylish, and some are just plain practical (and safe for the microwave, dishwasher and freezer). And whether you have a big kitchen or a small one, you'll find what you can't live without.
Read on for the best way to wrap, store, and distribute your Thanksgiving leftovers. Gobble, gobble!
Chef's Path 32-Piece Food Storage Containers Set with Easy Snap Lids
With this 32-piece set (16 food containers and 16 lids), you can store leftovers galore, and even send some guests home with a care package. The four hinged locking system forms a leakproof, airtight seal, and all the BPA-free plastic containers are microwave- and dishwasher-safe. And the set comes in different sizes and shapes to accommodate all kinds of dishes, includes reusable labels and a marker so you know what's what, and has 16,000+ 5-star Amazon reviews.
Signature Multifunction Roaster with Sheet Pan Lid
Not only is this Le Creuset cookware multifunctional, it also looks beautiful. It comes in three rich colors (with fun French names), and since it's made of durable enameled cast iron, it can go from the oven right to your table for serving, then into the fridge for storage, and straight to the dishwasher for cleaning. And, get this, the lid doubles as a sheet pan, so you can use the roaster for meats, veggies, and casseroles, the lid for cookies or bread, or use them together for even more deliciousness.
FineDine 5 Deep Nesting Mixing Bowls with Lids
Meal prep and storage just got a little simpler, thanks to these stainless steel bowls. They're great for getting ingredients together, tossing salads, and more, and with the included BPA-free lids, you can stick them right in the fridge or freezer. The set comes with five different sizes that nest inside each other for convenient storage, plus they're dishwasher-safe and have garnered 14,000+ 5-star reviews on Amazon.
The Original Vacu Vin Wine Saver Pump and Wine Preserver
There's nothing more tragic than throwing away wine that's gone bad. Well, now you don't have to. Just place this stopper in your wine bottle, and then press the pump vacuum until you hear a "click." That sound signals an airtight seal that will keep your wine tasting new for up to 10 days (according to the brand). The set comes with four wine stoppers and the pump, and can be reused as many times as you need. Cheers!
Caraway Food Storage Set
If you're looking for a step up from plastic, this storage set from Caraway is just perfect (and so trendy). The set features 14-pieces of ceramic-coated glass containers (plus lids) that are non-toxic, dishwasher-safe, and oven-safe up to 450 degrees Fahrenheit. Plus, the Instagram-worthy set even comes with three complimentary organizers for convenient storage.
Ziploc Quart Food Storage Freezer Bags, 75 Count
There's nothing more practical or handy than a set of dependable Ziploc freezer bags. These babies can handle anything – meat, veggies, fish, cheese, liquids, dessert – and are safe for the fridge, freezer, and microwave. They're easy to open and close (and stay closed), and you get 75 in this box. Plus, 17,000+ Amazon users have given them 5-star reviews.
OXO Good Grips Silicone Stackable Ice Cube Tray with Lid
If you have an abundance of sauces, dressings, or gravy, freezing them in an ice cube tray can be a great solution. That way, you can portion it out as you need it and save some space in your fridge. This flexible, BPA-free silicone tray has six large spaces for you to fill and they're dishwasher-safe. Best of all, it comes with a lid for easy storage and a firm base to cut down on spills.
Royalty Art European Cake Stand with Dome
You won't believe the versatility of this glass serving platter. It features a 6-in-1 design that can serve as a fruit tray, punch bowl, snack container, dessert plate, and more. Or you can just use the pedestal and domed top as an elegant way to display a cake or pie and keep it fresh. Plus, it's dishwasher-safe for easy cleaning.
Bee's Wrap, 3-Pack
If you're looking for an alternative to plastic wraps, these plant-based wraps are for you. According to the brand, they're made from organic cotton, organic coconut oil, tree resin, and plant-based wax, and the pack comes in three sizes for storing food or wrapping over a bowl. They're vegan, durable, reusable, compostable, and come in several chic patterns.
Brabantia Roll Top Bread Box
Keep your bread, bagels, muffins, and rolls fresh in this bread box. It measures 19 x 11 inches high, is made of durable steel and plastic, and features a flat top, so you can store other items on its surface. The box is easy to roll open and close, and one Amazon user reported, "it has plenty of room inside."
FoodSaver V4400 2-in-1 Vacuum Sealer Machine
Make sure your food stays fresher for longer with this vacuum sealer machine. According to the brand, it can preserve meat in the freezer for up to three years and leftovers in the fridge for weeks. Just put the bag in the vacuum chamber and let the machine seal in the freshness. There's a drip tray for catching any excess liquids and it comes with a variety of bag sizes to get you started. One Amazon user raved, "Exceptionally easy to set up and operate with great vacuum power and excellent seals. Well worth the price."
CapaBunga Cheese Vault with Divider
Cheese lovers, meet the cheese vault. It's made of BPA-free silicone and includes dividers to separate different kinds of cheese, while the base and lid keep out moisture so items stay fresh in your fridge. Plus, you can write the name of the cheese and the date stored on the shiny end of the holder with a ballpoint pen and easily wipe it away when the cheese is eaten.