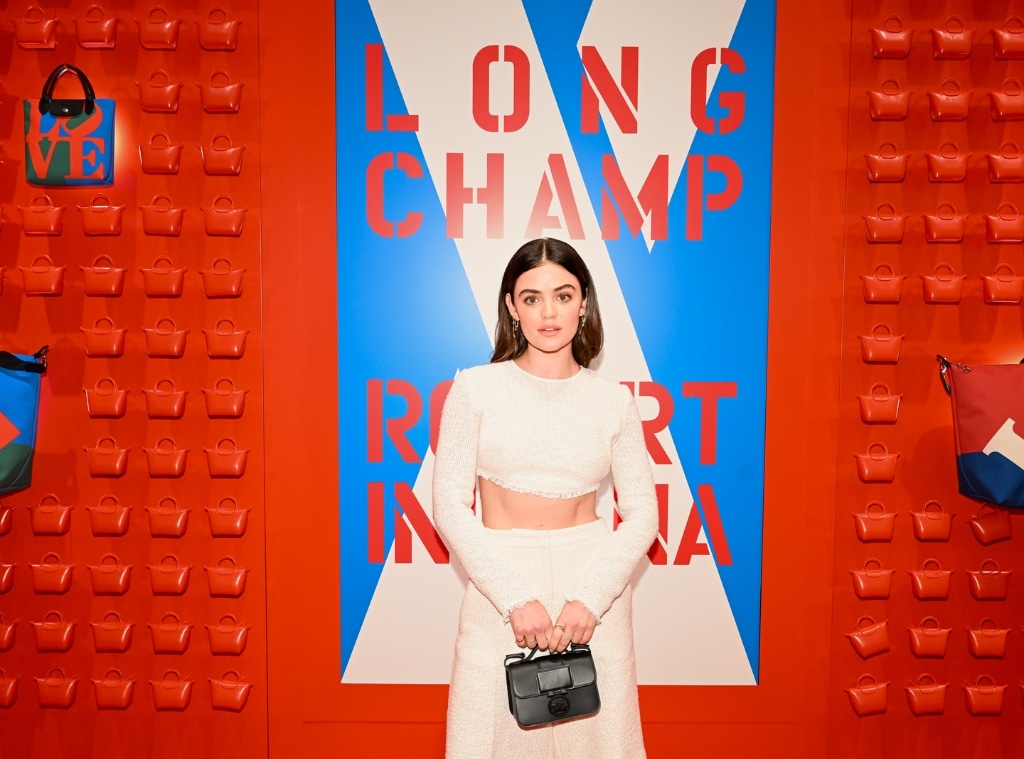 Matteo Prandoni, BFA
We interviewed Lucy Hale because we think you'll like her picks at these prices. E! has affiliate relationships, so we may get a commission if you purchase something through our links. Items are sold by the retailer, not E!. Prices are accurate as of publish time.
Lucy Hale is taking a moment to reflect on self-love and what she does to help her feel just a little bit more confident, whether it's retail therapy or focusing on gratitude. The Pretty Little Liars alum sat down with E! News at the first-ever Longchamp event held in the New York City flagship store to tell us about the tribute collection, and how we all need a little more love in our lives right now.  
"This collection represents an artistic collaboration that transcends boundaries, paying homage to the iconic LOVE artwork by Robert Indiana, and we were truly honored to have Lucy Hale, whose presence added an extra layer of charm and allure to the evening," says the Creative Director of Longchamp, Sophie Delafontaine.
Hale wore a white long short set, paired with a Black Box-Trot bag from Longchamp's SS24 RTW "Paris is a Party" collection (which begins dropping mid-November) to the event, where she mentions how much she loves the brand's "quiet luxury" aesthetic. Read on to learn more about the Longchamp X Robert Indiana tribute collection, and her tips and tricks on feeling empowered with fashion.
E!: Tell us about what you're wearing today.
L.H.: "I'm wearing Longchamp. I've actually never worn this type of silhouette before. Being a short gal, it's like omg how will this work? But its maybe one of my favorites I've ever worn. I feel like this brand embraces quiet luxury in the best way. It's very timeless, and effortless."
E!: Today we're here to celebrate the Longchamp X Robert Indiana launch, so what are your thoughts on the tribute collection? What do you LOVE about it?
"You come to New York and you see all of the LOVE structures and artwork, it's just iconic…he's an icon, legend. And this is the first time a brand has done a tribute collection with his artwork, which is really really special, and all around the theme of love, which we all need more of right now. The bags are so cool as well, and it's on the Le Pliage Tote. When I got my first tote years ago, I remember the feeling I got when I purchased it. I was like Oh this is so elevated and elegant, and I still have that same feeling now."
E!: Which one from the collection is your favorite, and that everyone needs in their closet right now?
"It's the yellow Longchamp X Robert Indiana Large Tote Bag with the circle that says one cent on it, but I also just love the LOVE Medium Tote Bag one with the red, blue, and green. It feels very New York."
E!: Since we're here today to pay tribute to Robert Indiana and his LOVE artwork, I thought we could talk a little bit more about self-love. How does your fashion help you feel more empowered and confident?
"I think it's actually the other way around for me personally. When I feel good and when I'm making choices that I like when I'm showing up in the world as my real self, I think that reflects in the clothes that I wear. I found that in the past when I'm not feeling so great, I try to hide. So, I can always look at a picture and I know what phase of life I'm in. And I think that your clothes in general, for anyone, is such an outlet for what's going on in your life, your personality, your creativity. Some people lean into that more than others, but I'm definitely at a place where I feel like my clothes reflect my inner world pretty accurately."
E!: On the days you're not feeling the best, what are some tips and tricks that help you get in a better headspace?
"I think it's really about finding self-compassion and being gentle with yourself because it's so easy for me, I'm sure a lot of people can relate, to spiral and getting that negative thought and you're like, omg it's three hours later and all I've done is sat in victim mode. So I think it's about really being gentle, holding space for whatever you're feeling, and I've found that I need to be active. So I go and play with my dogs, or I go outside, just anything to snap back into gratitude. I think gratitude is the easiest way to elevate your mood. Or go shopping!!"
If you're ready to start practicing some self-love like Lucy, keep scrolling to shop her favorite bag from the tribute collection and much more.
Longchamp X Robert Indiana L Tote Bag
The actress shares how you can pair this tote with "Anything! You can wear this anywhere, anything. It would be my travel bag for sure. I don't typically wear a ton of color, but you can pair it with anything you have on. You can fit anything in that bag too... snacks, laptops, chargers. And I love a bag that you can stuff it all in there. But I don't get dressed up too often so I feel like that would go with my everyday jeans and leather jacket."
Longchamp X Robert Indiana M Tote Bag
If you love Robert Indiana's iconic LOVE pop art, then you need to add this medium tote bag to your cart immediately. Like Lucy says, "It feels very New York."
Longchamp X Robert Indiana XS Handbag
For a pop of color to your everyday fit, opt for this green embossed XS handbag. It's small enough to carry around everywhere with you and comes in two other colors.
Longchamp X Robert Indiana Pouch
Available in two different colorways, the Longchamp X Robert Indiana pouch is the perfect size to store your most important essentials: Phone, keys, credit card, and lip gloss.
Longchamp X Robert Indiana Headband