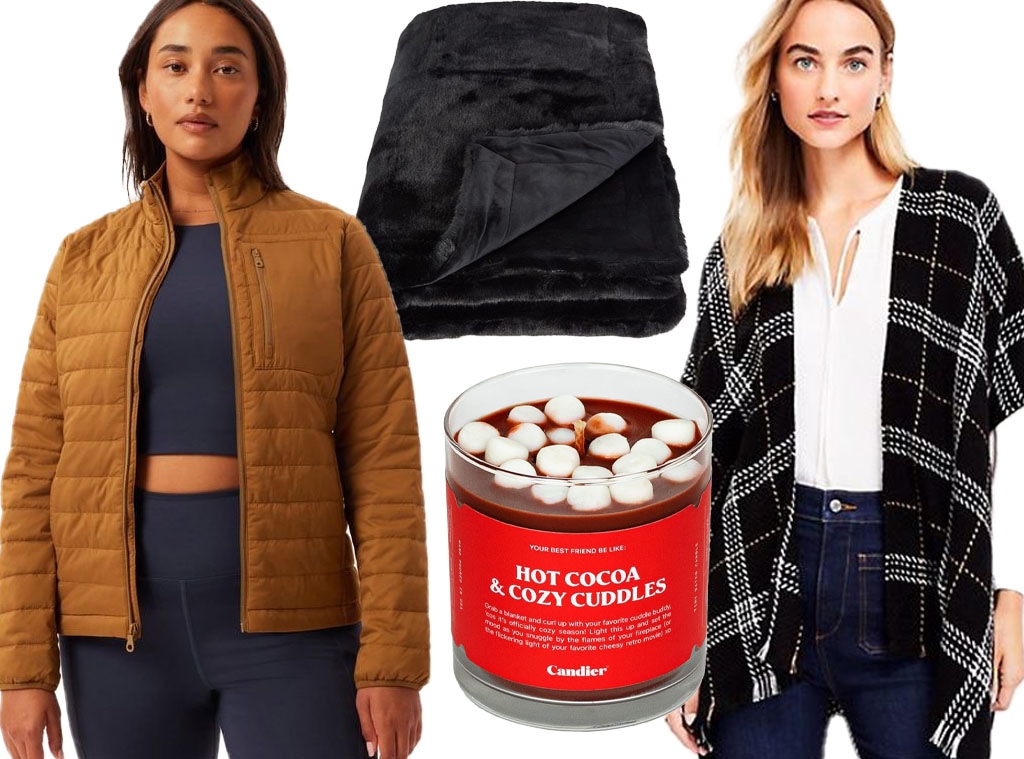 The brands featured in this article are partners of NBCUniversal Checkout. E! makes a commission on your purchase. Prices are accurate as of publish time. Items are sold by retailer, not E!.
Oh, autumn. We bust out plaid patterns, swap sneakers for black ankle boots, and make plans for the holidays. We shop for Scorpio season gifts and maybe even add new fall jackets to our rotations.
But, wait, what if we don't need jackets? What about the many, many people who spend the season traditionally associated with crisp and breezy weather.....very, very warm instead?
After all, there are just as many stylish autumn enthusiasts whose weather is too nice for pumpkin spice as there are people who get to bust out their favorite cardigans each year.
If you fall in the former category, this one's for you. These are the 11 essentials you need to make it feel like fall, even if it really doesn't feel like fall. So whether you're considering a fake snow machine or rely on a televised fireplace to get the vibes rolling, there's something in here for you.
Loft Plaid Wrap
In place of a heavy cardigan or unnecessary jacket, may we suggest this on-trend plaid wrap instead? It brings an air of laidback cool to day-to-night looks.
Angel Dear Pumpkin Spice Latte Headband
It's never too soon to teach your little ones about the joys of a quality pumpkin spiced latte. (In case it isn't clear, this is a headband for children.) 
Saks Fifth Avenue Spiced Pumpkin Scented Candle
If you're feeling like the weather's still too nice to sip that pumpkin spice, you can always enjoy the aromas of it via this orange-hued candle.
Surell Faux Fur Weighted Blanket
Weighted for comfort (and added relaxation) and crafted from glorious faux fur, this fabulous blanket is ideal for snuggling up under in front of a televised Yule log.
Lucky Brand Plaid Boyfriend Shirt
Relaxed and basically designed for layering, this plaid "boyfriend" shirt is a warm-weather autumn's best friend. Plus, it's in more of a pastel hue, so you can honestly make the most of it year-round.
Sanctuary The Cabin Plaid Shirt In Carson Plaid
This ever-so-cropped plaid integrates seamlessly into any wardrobe. Why borrow from the boys when you can have one of your own? Though, of course, you can always have both.
Candier Hot Cocoa Candle
Is it too warm for hot cocoa? I get it. Not everyone lives in a world where it drops to the 30s overnight and the sun dips below the horizon before 5pm for what feels like months at a time. Instead, enjoy the scent-sation of cocoa with marshmallows without even burning your tongue.
Loewe Slippers
Treat yourself to some cozy, luxe, and totally Barbie-core slippers this year. They may not be in a totally autumnal palette, but they get the job done regardless.
Girlfriend Collective Fox Packable Puffer
A packable puffer in a shade that I'm going to say is best described as a luscious ochre? I mean, it doesn't get more seasonal than that. And there's literally no in-between climate that a puffer isn't perfect for. I feel like this is too many double negatives, but you get it.
Isabel Marant Bady Scarf
Crafted from lightweight marled cotton, this wear-everywhere scarf tops off any look with autumn-chic flair. Also, who doesn't love a designer label on sale?
Bar Iii Puff Sleeve Plaid Mini Dress
A plaid minidress is the ultimate versatile item for a warmer-weather wardrobe. You can add tights, a cardigan, and boots, or just toss on a pair of flats — however you style it, it's always right for fall.
Add to your fall look with the perfect pair of black lace-up booties. Because, really, they go with everything.