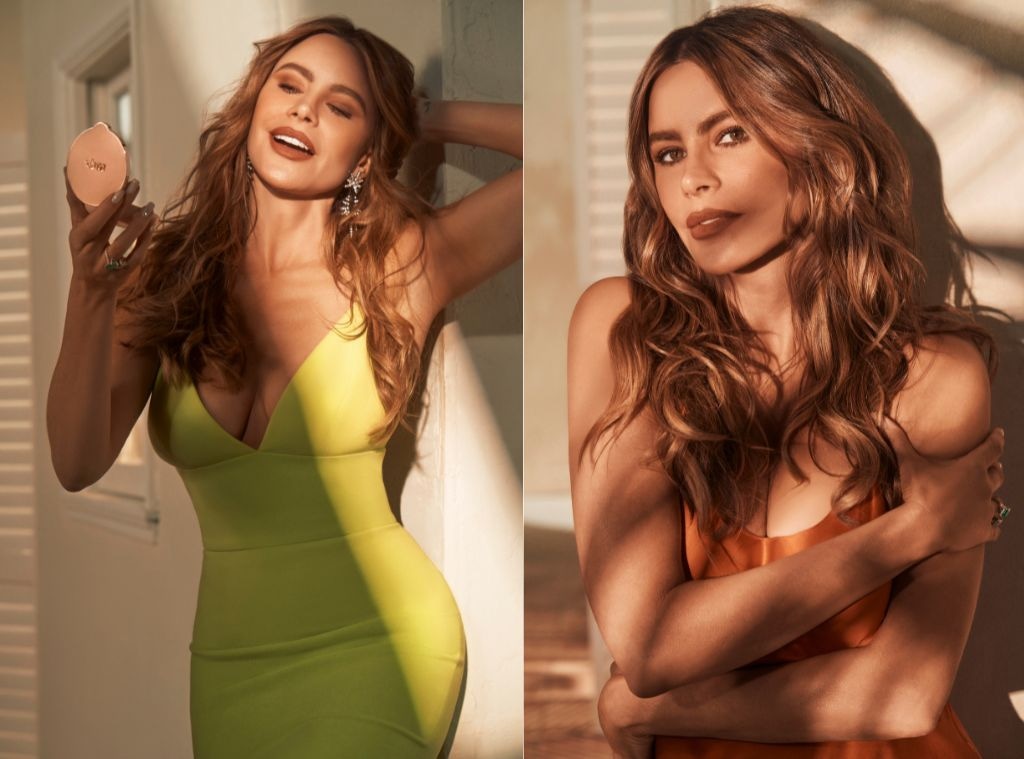 E! News Illustration / Photos Courtesy of Toty
We interviewed Sofía Vergara because we think you'll like her products. Vergara is the founder of Toty. E! has affiliate relationships, so we may get a commission if you purchase something through our links. Items are sold by the retailer, not E!. Prices are accurate as of publish time.
If there's one person who knows about beauty, it's Sofía Vergara. From growing up in sunny Barranquilla, Colombia, to later moving to Miami, Vergara has always lived in tropical places where the sun is usually in full effect year-round. "I slowly became more conscious of the effects the sun has on the skin, beyond just getting a tan. Once I learned the sun not only causes cancer but also aging, I made suncare my first priority!" she tells E!.
Thus, Toty was born. Vergara recently launched her own beauty brand in partnership with Cantabria Labs, a Spanish manufacturer of dermatological skincare. The vegan, cruelty-free line has centered its focus on cosmeceutical innovation and suncare protection. "All Toty products have our proprietary PLE FernBoost technology, which has been scientifically demonstrated to protect skin against sun damage and photoaging" Vergara explains. Toty consists of sunscreen, skincare, makeup, and wellness products that are now available to purchase online.
And with Hispanic Heritage Month in full swing, there's never been a more perfect time to highlight and support Latinx-owned brands. Especially one like Toty, whose entire executive team is made up of Latina women, just like Vergara. "An executive team of Latina women is a vital part of the brand's DNA and authentic to us in our mission of amplifying Latina culture through Toty's suncare first approach".
If you're ready to stay mas bonita, inside and out, keep scrolling for Sofía Vergara's top products from her brand Toty.
Ilumina CC Cream SPF 50+
"The Ilumina CC Cream SPF 50+ uses mineral filters, has Broad Spectrum SPF 50+ protection (UVA/UVB), and is infused with antioxidants that protect against free radicals. I love this product because it comes in 15-tone adapting shades. I recommend applying it as a base, like a traditional cc cream or primer under makeup. It's also great on its own if you're looking for less coverage and a more natural finish but still want added protection and coverage."
Ilumina CC Creamy Compact SPF 50+
"Ilumina CC Creamy Compact SPF50+ is my go-to product and I never leave the house without one in my bag. I love it for reapplication since it is recommended to reapply sunscreen every 2 hours. Because it's tinted and it has a blurring and perfecting coverage it's ideal for reapplying on the go and is so convenient with the compact mirror and sponge. It is also really special because it is sweat and water-resistant which makes it a great partner for life in the warmer weather and any outdoor activities."
Ilumina CC Creamy Compact SPF 50+ Refill
"Having the compacts be refillable is good for the environment and it saves people money, it was a no-brainer, we couldn't not do it! You can easily refill your color as needed or have multiple shades on hand depending on levels of tan or any skin tone changes."
Solaria Mineral SPF 50+
"I really don't like the feel of a heavy sunblock but am very mindful of full coverage sun protection. Solaria Mineral feels more like a serum and also has skincare benefits and a priming effect on the skin. It also has a soft beige pigment to it that blends in sheer, which gives a slight blurring effect on the skin and just goes on so beautifully while also having broad spectrum SPF50+ coverage and being sweat and water-resistant. It's a must-have and makes suncare easier than ever. I don't know how I ever lived without it!"
Ilumina Brush
"We tried to make it the perfect brush, that not only fits perfectly in your hand but also fits perfectly in your purse. We cut the bristles diagonally so that it would go over your eyes, face, and nose area perfectly and evenly."
Ilumina Blender
"The Ilumina Blender takes the finish of Ilumina products to the next level, providing a radiant, flawless look."