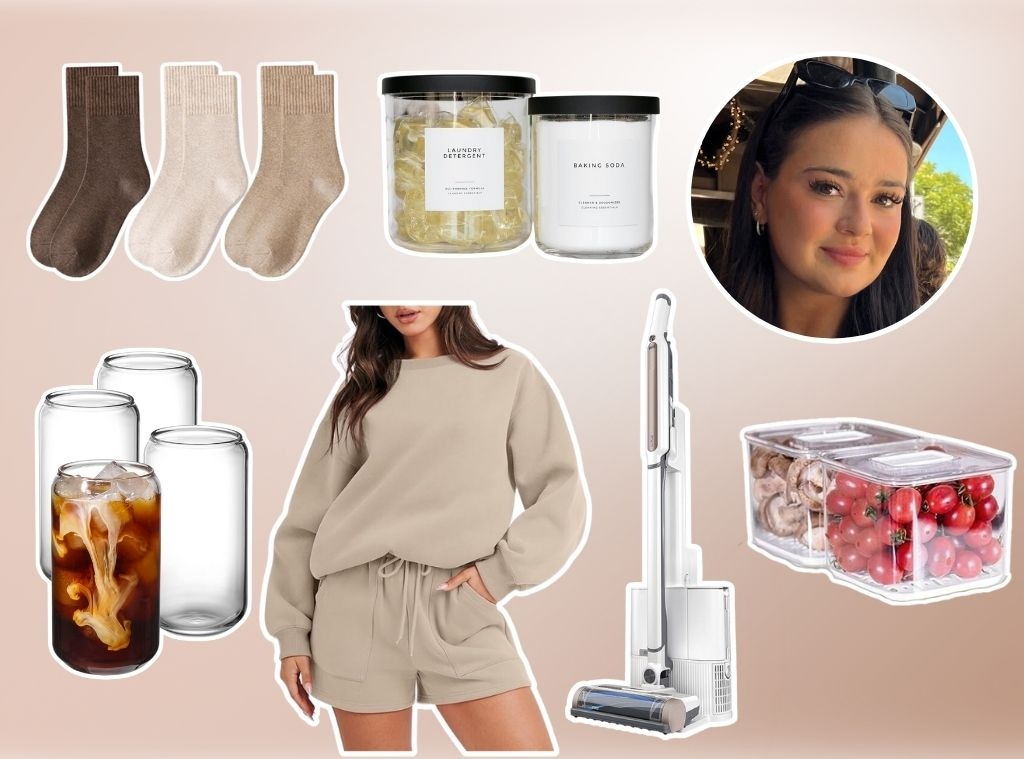 We interviewed Kaeli Mae because we think you'll like her picks. Kaeli Mae is a paid spokesperson for the Amazon Influencer Program. E! has affiliate relationships, so we may get a commission if you purchase something through our links. Items are sold by the retailer, not E!. Prices are accurate as of publish time.
If the Clean Girl aesthetic has a queen, Kaeli Mae is sitting on the porcelain, dust-free, throne. It's easy to dress the part— beige matching suits, slicked back hair, and minimalist accessories, but Kaeli Mae takes it to another level. To match her effortless, model off-duty style, her home is spotless. Immaculately clean. Gleaming. The kind of clean you wouldn't know she actually has four pets, including adorable new addition Murphy. When asked how she keeps her home free from stains, she responded, "you definitely have to vacuum a few times a day". And to that i say, I could never. Alas, I will live vicariously through her by doomscrolling her instagram feed.
As mentioned before, Kaeli Mae's Clean Girl vibe exceeds visual appeal. You may be familiar with her viral ice-making ASMR videos, fridge restocks, and It Girl Sunday resets. It's truly peaceful consuming her content. We're definitely taking this transition into fall as an opportunity to peruse her fashion, home decor, and cleaning products to keep our home fresh and orderly, but most of all cozy. To cultivate the Clean Girl life like Kaeli Mae, one must commit. Below are some of her recommendations to look, act, and be the Clean Girl you wish to see in the world.
Anrabess 2 Piece Sweatsuit
First things first, this 2 piece sweatsuit is the new uniform. Comfy, cozy, top-tier lounge attire. If neutrals aren't your forte, they offer 18 different colors in sizes from XS-XL.
Lomitract Bamboo Mini Crew Socks
Head-to-toe signature style looks and feels luxurious. Match your sweatsuit with mini crew socks to complete the look. 
Bigacogo Chunky Knit Blanket
Kaeli Mae's home decor is truly a work of art. One of the main details is throw blankets. She uses them as accents, but of course they come in handy for her aesthetic, movie date nights.
Netany Drinking Glasses with Glass Straw 4pcs Set
Kitchen essentials in Kaeli Mae's home are practical without sacrificing beauty. These drinking glasses with straws are as sleek as a Clean Girl's hair. 
iPegtop Fridge Produce Storage Containers
Kaeli Mae's organization is unmatched, everything in her fridge has a place, or a drawer. Keep your produce and snacks easily accessible with storage containers.
Heart Shaped Ice Cube Trays
No detail in Kaeli Mae's day is overlooked. Even her ice. You've probably seen her ice restock videos on your For You Page. If you haven't, it's a must. She has an ice mold tray for every mood.
Tiumso Microfiber Feather Duster 5-in-1 Kit
What makes Kaeli Mae the ultimate Clean Girl is her dedication to keeping her home spotless, especially with so many fur babies. This 5-1 microfiber feather duster is ideal for hard to reach places around the home.
Clean-Modern White Bathroom, Laundry, & Cleaning Labels
What makes cleaning less of a chore and more of a vibe? Turn your cleaning products into a visual with uniform labels. Cleaning becomes much more enjoyable when it's pretty.
Shark Ultra-Lightweight Vacuum with Hepa Empty Base
Shark Ultra-Lightweight Vacuum
If you're looking for more fashion finds, check out Vivian Rodriguez's athleisure fashion finds that are meant for a workout, but cute enough to wear to lunch.