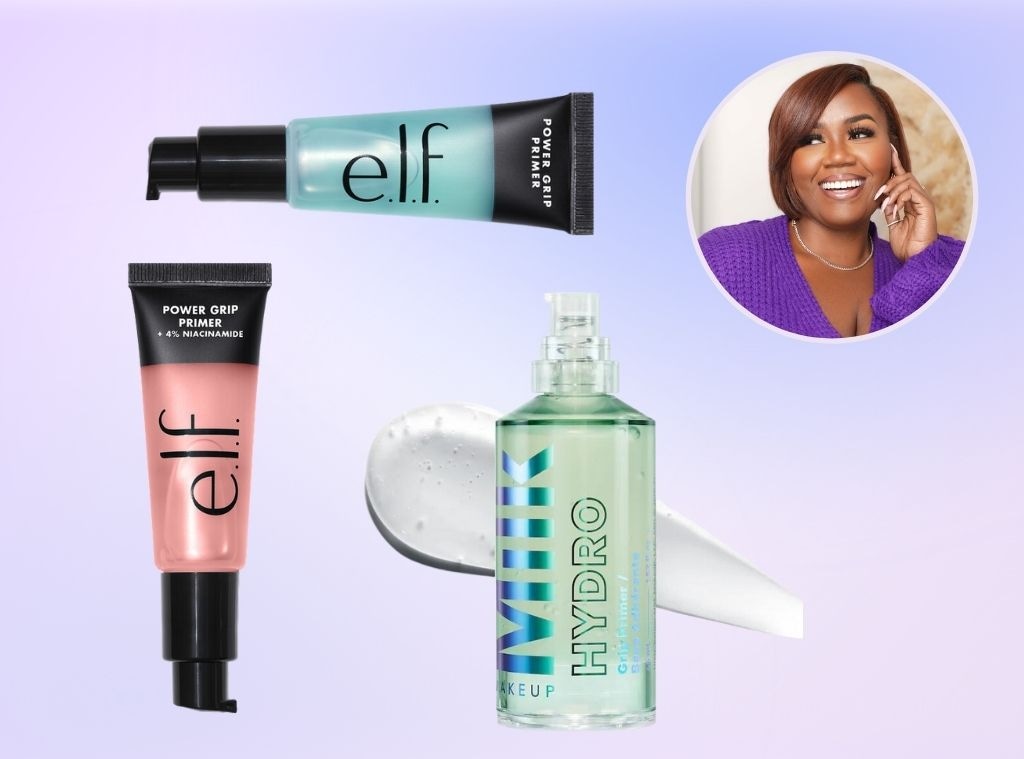 We interviewed Nita Danielle because we think you'll like her picks. Nita is a paid spokesperson for the Amazon Influencer Program. E! has affiliate relationships, so we may get a commission if you purchase something through our links. Items are sold by the retailer, not E!. Prices are accurate as of publish time.
Depending on where you live, it's still too hot to think about fall. We'll take our PSL on ice, please. When we met Nita Danielle it was close to 100º F (I wish we were joking). As we got to talking, the one thing we couldn't keep our eyes off of was her perfect matte makeup. A bubbly personality and immaculate foundation? Some people have it all.
Lucky for us, Nita doesn't gatekeep and she shared her secret to keep makeup matte throughout these unprecedented heatwaves.  
Nita's go-to primers are e.l.f. Power Grip and MILK Hydro Grip Primer. Both these gel based primers are top-rated and favorites among the beauty community. Nita explains these work best to combat sweat and oiliness. She then finishes with a foundation by L'oréal Paris, stating she loves nothing more than an affordable makeup brand. 
To achieve the poreless perfection, even in the scorching heat, take Nita's beauty recommendations.
e.l.f. Power Grip Primer
Nita's primer of choice by e.l.f. has 4.6 stars and over 12.3K Amazon ratings. In addition to gripping your makeup and giving a natural finish, the serum moisturizes with ingredients like hyaluronic acid to give you a plump complexion.
e.l.f. Power Grip Primer + 4% Niacinamide
We love choices! This e.l.f. primer although sisters with the previous suggestion, they're not twins. This power grip primer contains +4% of niacinamide and helps smooth and brighten. For the ideal dewy finish, this is your girl.
MILK Makeup Hydro Grip Primer
Nita's other favorite primer is the Hydro Grip Primer by MILK Makeup. This gel primer contains hyaluronic acid, hemp seed extract, niacinamide, and vitamin b3 to boost skin's hydration, per the brand.
L'Oréal Paris Infallible Pro-Matte Liquid Longwear Foundation
This L'Oréal pro-matte liquid longwear lasts 24 hours. It's lightweight, creamy and comes in 28 different shades. And if it wasn't already a bargain price before, it's currently 60% off.
Real Techniques Makeup Brush Set
All the best makeup in the world mean doens't mean a thing without proper application. This Real Techniques brush set with everyday essentials is what Nita uses. We especially like the travel case too keep your sponge clean.
Finishing Touch Painless Hair Remover
The best way to make your makeup last is prepping the skin. If you're hesitant to take a dermaplaning tool to your face, try this painless, hair removing alternative Nita shares on her storefront. This tool instantly removes peach fuzz and hair from lips, chin, neck, and cheeks. I've personally used this for the past four years and it's one of the easiest parts of my skincare routine.
Body Glide
While not so much makeup a makeup essential, this body glide is definitely a must-have. Did I mention how hot it is still? I digress. For comfort and anti chafe, she recommends this body glide for women. This stick helps hydrate and retain moisture, plus it's rich in vitamins, A, B, E, and F. 
Looking for more Amazon influencer recommendations? Check out Vivian Rodriguez's athleisure fashion finds that are meant for a workout, but cute enough to wear to lunch.